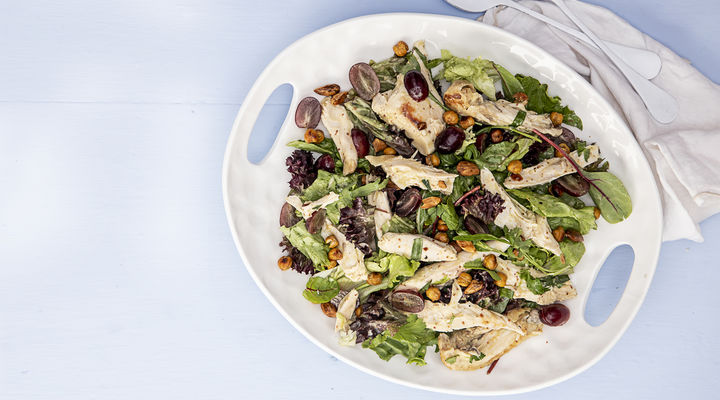 RECIPE OVERVIEW
This salad can be made up to three days in advance. Spread the
cooked shredded chicken on a baking sheet to chill quickly, then store in a ziplock bag in the fridge.
400

fillets

Chickpeas

drained and rinsed

2

-

Free-range chicken breast fillets

100

ml

SuperValu Extra Virgin Olive Oil

80

ml

SuperValu White Wine Vinegar
Method
1. Toast the nuts.
2. Make your dressing. Blitz the mustard, half the tarragon leaves and the vinegar in a blender. With the motor still running, slowly add the rapeseed oil until you have a fully emulsified dressing.
3. Cook the chicken. Place the chicken breasts in a saucepan and pour in enough water to cover. Place over a medium heat and bring to the boil, then turn down to simmer for 10 to 12 minutes, until the chicken is cooked through. Transfer the chicken breasts to a bowl and allow to cool slightly, then shred the chicken with two forks. Pour over a couple tablespoons of the dressing and toss to combine.
4. Prep the veg. Preheat the oven to 200°C/gas mark 6. Pat the chickpeas dry with kitchen paper, then place in a bowl, toss with the olive oil and season to taste with salt and pepper. Spread on a baking tray and bake in the oven for 35 minutes, until browned and crunchy. Wash the grapes and cut them in half.
5. Add the leaves. Open the bags and empty the baby salad onto a large platter.
6. Assemble the salad. Pick the remaining tarragon leaves off the stems, keeping the leaves whole as best you can. Scatter the shredded chicken over the salad leaves, top with the roasted chickpeas and grapes, then drizzle over the rest of the dressing. Finish by sprinkling with the tarragon leaves and toasted almonds.
Be the first to add a review.