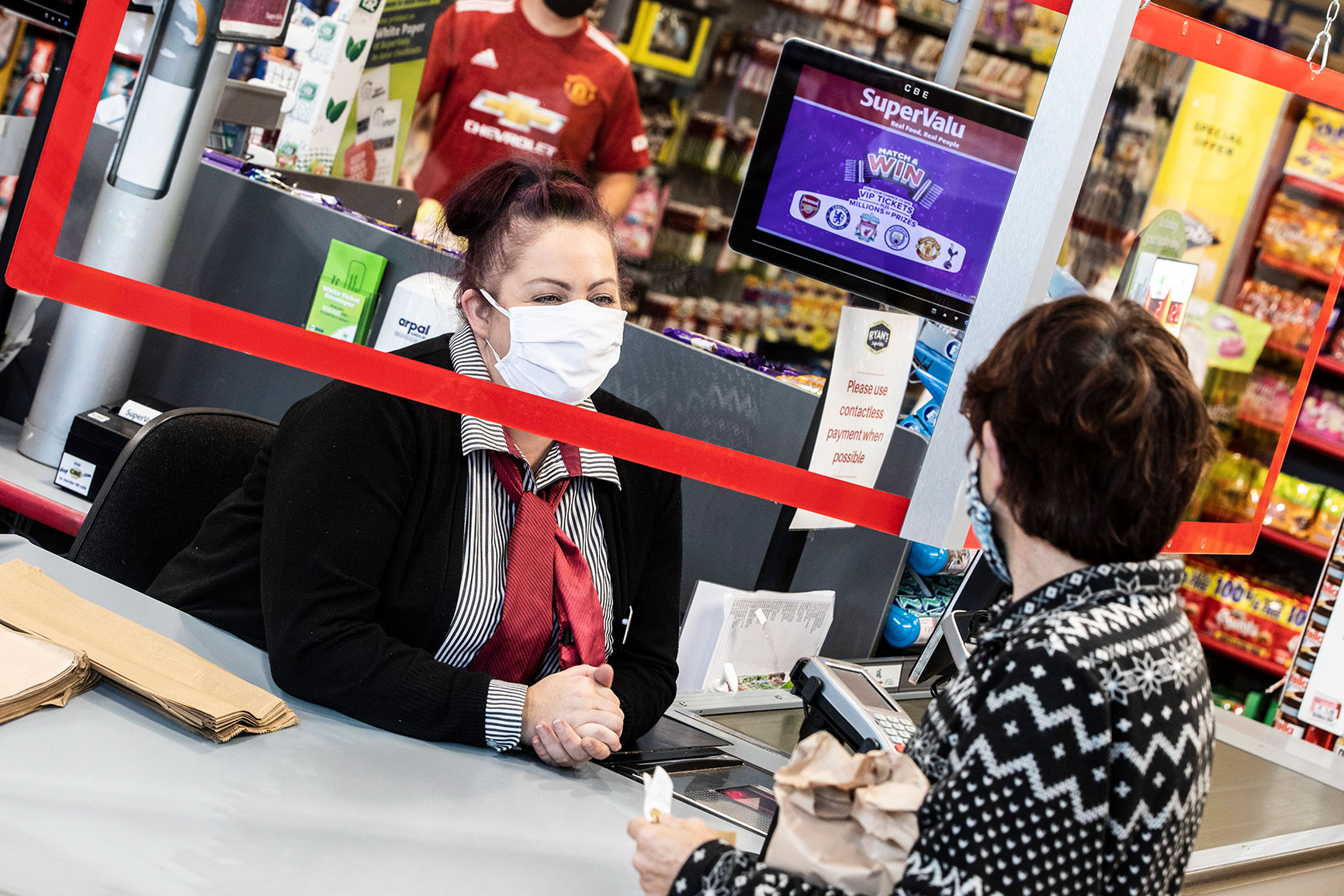 With hundreds of stores across Ireland, from large cities to small rural towns, you're sure to find the right location and role for you. 
Cities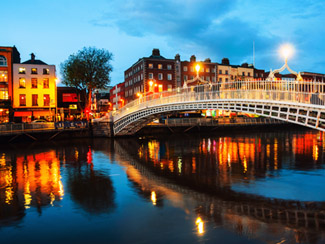 Dublin
Ireland's capital city is a buzzing place to live and work. It's a cultural mix of historic buildings and landmarks, alongside modern architecture and landscaped parks. Dublin has the youngest population in all of Europe, and a thriving nightlife scene. People from all over the world have settled and made Dublin their home thanks to the excellent job opportunities, unique and vibrant lifestyle, excellent transport links and beautiful surroundings. There are many Centra stores in and around the city of Dublin, each in unique locations with their own communities, but all with access to the same great city benefits.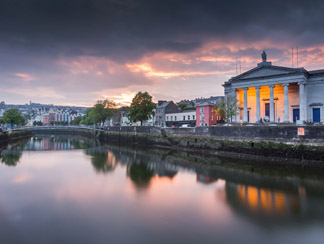 Cork
Cork, just inland from Ireland's south coast, is a bustling and vibrant but traditional and picturesque city. It has the second largest natural harbour in the world, after Sydney in Australia, offering a great deal in the way of sailing and water sports. The length of the southern coastline is easy to access and explore from the city, and offers those living in Cork all the benefits of a city lifestyle coupled with access to scenic, coastal landscape. The city is a foodie hub with markets, restaurants and cafés. It also plays host to a wealth of festivals including the internationally-renowned Cork Jazz Festival.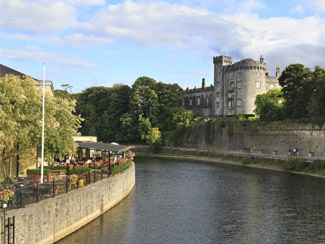 Kilkenny
Welcome to the city of sport, medieval history, festivals and food. Kilkenny is a small city in south east Ireland with ancient roots and lots of character. Medieval buildings line the streets and its grand castle dominates the centre. It's famous for hurling, a traditional, popular Gaelic sport. Kilkenny's team the Cats has dominated hurling over the years – you can even learn to play it at a local academy The Kilkenny Way. Outside of sport, the city plays host to a great number of festivals every year including Medieval Week, Savour, which is Kilkenny's food festival and even a craft beer festival.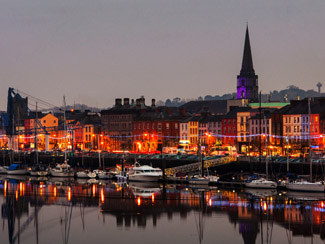 Waterford
Waterford, is a seaport in south east Ireland and it is the country's oldest city, dating back to 910 A.D. This is a city with the best of both worlds, beautiful coastline, a vibrant city and green river valleys. The coastline provides sandy beaches, which in summer are the perfect place for families to visit or for thrill-seekers who can try wind surfing, kite surfing and body-boarding. Inland the spectacular Waterford Greenway is a 46km off-road cycling and walking trail on the site of an old railway line between Waterford and Dungarvan. This is also a city that has plenty of attractions for families, and for single people with excellent nightlife, culture and transport.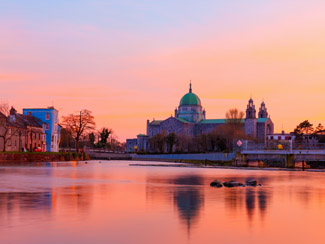 Galway
The city of Galway, on Ireland's west coast, offers a different vibe – it is often referred to as intriguing, bohemian and off-beat. In the Latin quarter, stone-clad cafés, boutiques and art galleries line the street. The city is known for its culture, artistry and exceptional food and music. As well as this, Galway is a popular seaside location with beautiful beaches and it has a thriving and cosmopolitan city centre. It has a proliferation of festivals and events from the International Arts Festival to the Galway Races.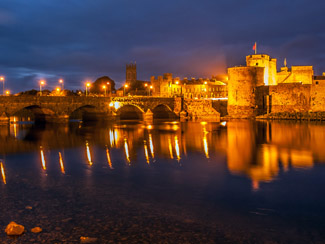 Limerick
Limerick is Ireland's third largest city in the mid-west of the country. It is bustling and vibrant, but compact and easy to get around on foot. The river Shannon flows through the city, and the modern waterfront area offers contemporary living, dining and entertainment for residents. This is a city steeped in history and packed with Irish charm and heritage – including its castle, ancient walls and museums. You'll get a real sense of Irish culture and a community feel, coupled with city benefits, including great transport links, shopping, entertainment, food and drink, music and nightlife.
Towns
Drogheda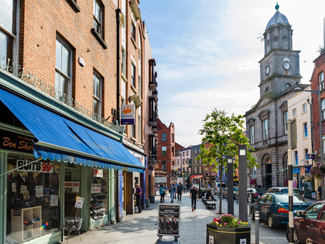 Drogheda is one of the oldest towns in Ireland, but it's by no means stuck in the past. Just 50km from Dublin, and the airport, it's a popular location with easy access to capital city amenities. There are three championship golf courses in easy reach of the town and a League of Ireland football team to follow – Drogheda United. The town has a great traditional Irish music scene and a fantastic collection of pubs. Being set just off the coast, beaches are never far away, and the town is surrounded by rural areas with beautiful scenery.
Bray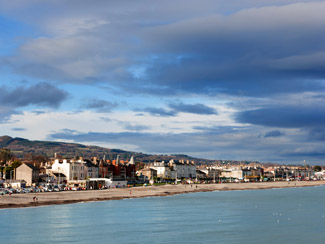 Bray is a coastal town in north County Wicklow, 20km south of Dublin and therefore close to city transport links including the major airport. It's a mixed pot of rich heritage and splendid scenery with a bustling town centre and thriving industry. Bray has a scenic Blue Flag beach, with clear waters and spectacular cliff walks along the coastline. The town is home to families and professionals as well as commuters, and there are plenty of places to eat, drink, relax and shop.
Navan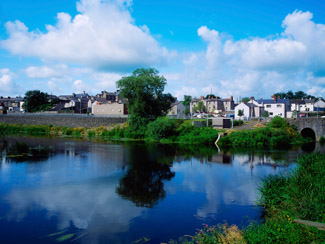 Navan is set in the Boyne Valley, in the county of Meath which is renowned for its world class golf courses. The area is a stronghold of Gaelic football, and home to a range of other GAA sports teams – 19 in total. Navan and surrounding towns are also well known for horse racing, with several prestigious racecourses including Fairyhouse, which hosts the Irish Grand National. Outside of sports, this market town has a vibrant business and shopping centre with plenty of modern facilities.
Ennis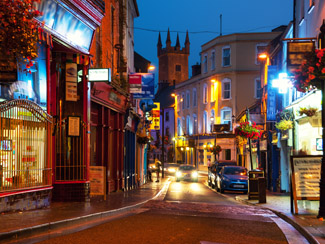 Ennis, in the county of Clare, is a picturesque and historic market town taking its name from "Inis" which is the Irish name for island. Ennis and County Clare are world famous as the home of traditional Irish music and year-round music festivals. Ennis is rich in heritage with some of the finest monuments, buildings and waterways. The town has held a strong presence every year in the All Ireland Tidy Town Awards, which is sponsored by SuperValu, creating a sense of community pride. It is a charming town with streets lined with independent shops, boutiques, cafés and traditional Irish pubs.
Carlow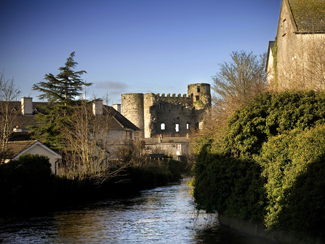 The county of Carlow is a rural and scenic area, with glorious countryside and river valleys. The town of Carlow has a community oriented feel, with plenty of amenities. Sports and outdoor pursuits are aplenty in this area with everything from angling and canoeing to mountain biking and walking, all in landscape with breath-taking views. It's also the home of the famous Walsh Whiskey distillery at Royal Oak, which produces some of the finest Irish whiskeys.
Newbridge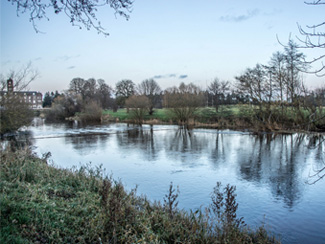 Newbridge, in County Kildare, east Ireland, is the kind of town you'd say is 'not too big, but not too small'. It has a community feel, but it has everything you need in the way of facilities, shopping, restaurants and sports. The town is on the main train line to Dublin, making it a desirable location for commuters or those who want access to city benefits. In fact, the area between Naas, Newbridge and Kilcullen has been identified as a primary area for growth. Over the last decade it has witnessed a population increase of over 30 per cent and has become a top choice for young families putting down their roots outside of Dublin.
Portlaoise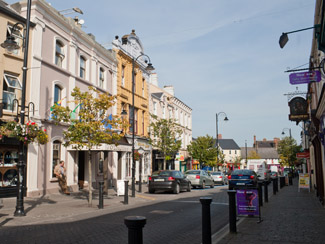 The town of Portlaoise has long-running status as a major commercial, retail, and arts centre for Ireland's midlands. A vibrant town with shops, pubs, restaurants and leisure facilities, it is the main town in County Laois on the main roads from Dublin to the south and southwest. With a large emigrant population, mainly from eastern Europe, Portlaoise is a cosmopolitan place. It's central location, excellent motorway, rail and bus networks, good house prices and high employment rate have proved hugely attractive for both foreign nationals and commuters.
Mullingar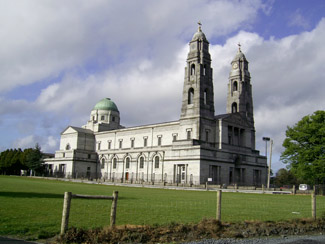 Mullingar is located in the heart of the midlands and what is referred to as the 'ancient east', where striking landscapes are steeped in history and brimming with ancient stories and legends. Mullingar has a number of lakes including Lough Owel, Lough Derravaragh and Lough Ennell. Mullingar is a unique place to live and work, with fantastic community spirit, a thriving music and arts scene, shopping and attractions. It has easy access to the stunning scenery in County Westmeath including the lakes, the Royal Canal and the River Shannon, where you can enjoy long walks or outdoor pursuits.
Wexford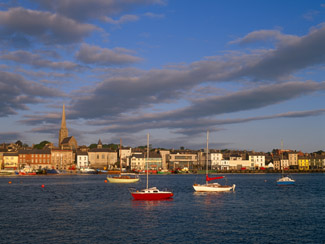 Wexford is a town in south east Ireland at the mouth of the River Slaney, with a quaint harbour and a town centre that is a maze of medieval lanes. Being on the coast, there are plenty of sandy beaches nearby, and you'll find sailing clubs, boat trips and other water sporting opportunities including canoeing and kayaking. It's an arty town full of craft shops, galleries and its own national opera house. The town is famous for the 12-day Wexford Opera Festival which attracts visitors from around the world. 
Tullamore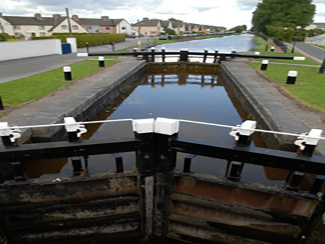 Tullamore is a charming town in Ireland's midlands with a rich history and beautiful scenery. The picturesque Grand Canal runs through the town and today the Tullamore Dew Heritage Centre sits on its banks – a venue dedicated to the famous distilling heritage of the town. It's a vibrant local hub, with a friendly community. The town has several times over won awards in Ireland's Tidy Towns competition, sponsored by SuperValu, creating not just a sense of pride amongst local residents, but a strong community spirit. Gaelic Games are popular in Tullamore with two GAA clubs.
Kilarney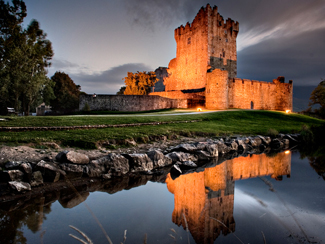 Kilarney town is the gateway to Ireland's largest National Park, and to the county of Kerry itself. It's a picturesque town full of Irish charm, surrounded by breath-taking landscape from mountains and fields, to waterfalls and rivers. The area welcomes thousands of visitors every year. It's known as the adventure capital of Ireland, thanks to the numerous lakes, rivers, mountains and various terrains. It is ideal for most sports or outdoor pursuits, from walking and cycling, to fishing, rock climbing and canoeing.
Castlebar
Castlebar, in the west of Ireland, is in the county of Mayo, which is a mix of rural landscape and scenic coastal areas, alongside urban towns and villages. County Mayo has an international airport, a vibrant commercial and business community across a number of large towns and many tourist attractions. Amongst these are the world-famous Croagh Patrick, a mountain and pilgrim site, and Knock Shrine, which attract one million visitors a year. Castlebar is a friendly, community-centred town with plenty of local facilities, events and festivals.
Letterkenny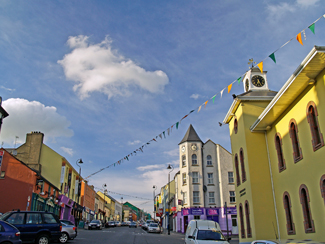 Letterkenny is the largest town in County Donegal, in the north of Ireland. The Wild Atlantic Way, as it's known, stretches along the coast of the county and the area boasts stunning scenery and rural landscapes. Letterkenny, like many of the other local towns, has a strong community spirit. It has a long history in the All Ireland Tidy Town's competition, in fact in 2015 the town scooped the top prize in the large urban centre category. The town's Main Street is said to be the longest in Ireland and is lined with bars, nightclubs and places to eat, making it a popular location in the evenings and weekends.
Sligo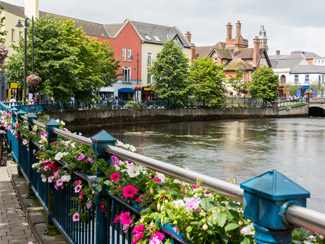 The town of Sligo, in the north west of Ireland, straddles the Garavogue river where it meets Sligo Bay. It's known for its literary heritage and rugged countryside. It has the wild Atlantic coastline to enjoy, which is breath-taking and untouched. The town, however, has undergone a transformation over the last 20 years into a modern-day vibrant hub, with great restaurants, shops and hotels. There are plenty of parks, attractions and leisure facilities, making it great for families and professionals.  
Clonmel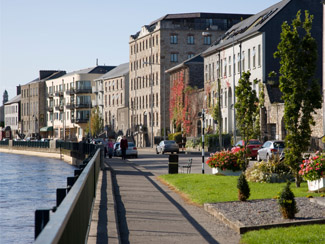 Clonmel is the main town in County Tipperary, a land-locked rural county that's home to mountains, rivers, lakes and farmland. In contrast, Clonmel is a vibrant commercial centre, bustling with businesses, sport, art and culture. It's ancient walls and monuments are steeped in history, but it's streets are now lined with modern bars, cafés and shops. Tipperary is a stronghold of hurling, Clonmel also boasts a golf course, a strong rugby club and athletics club.
Longford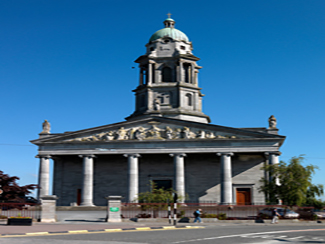 Longford is the largest town in the county of the same name, in Ireland's midlands. County Longford has some of Ireland's most remote and unspoilt landscapes. It is located at the heart of lakelands and inland waterways, and is renowned for its angling, boating and outdoor activities. Sports are popular throughout the area with a calendar of annual events including Lanesboro Triathlon, Longford Cycle Tour, Longford Walking Festival and Water Polo Championships. Whilst it is a quiet town surrounded by remote landscape, Longford has excellent transport links, and Dublin, Galway, Sligo and Mayo are all reachable within a short driving distance.
Cavan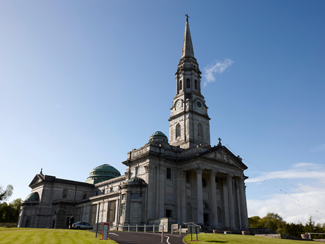 Cavan is the county town of County Cavan in the province of Ulster, near the border with Northern Ireland. The town is on the main road that links Dublin with Enniskillen, Ballyshannon and Donegal Town. The area is widely regarded as the best fishing location in Ireland with some of the finest fisheries in Europe. The county is awash with lakes, so it's also the perfect place for sports like canoeing and kayaking. It's a welcoming and friendly community.
Tralee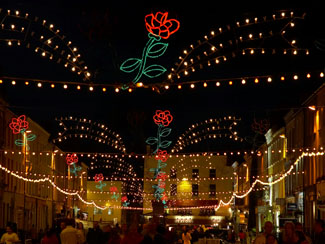 Tralee is in County Kerry, in southwestern Ireland. The town has plenty of modern facilities, shops, cafés and bars. However, residents still have easy access to all the wonderful landscape and scenery in Kerry that is so popular with tourists. This includes the Kilarney National Park with 10,000-hectares of forests, moorland and landmarks like Torc Waterfall and Torc Mountain.