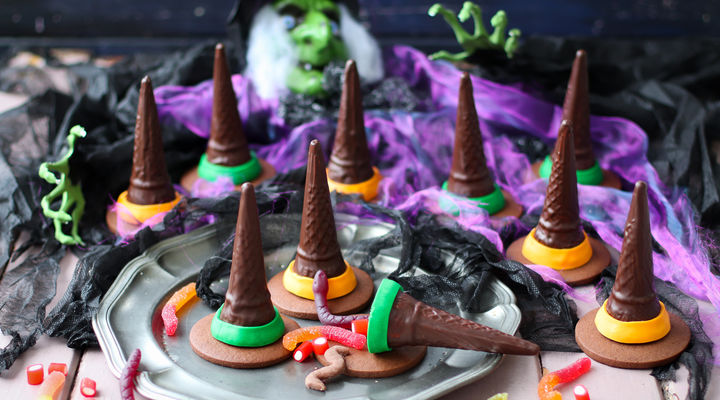 RECIPE OVERVIEW
Kids both young and old will get a great surprise with the unexpected sweets inside these witches' hats! This is a great recipe to get kids involved with, as they will love the whole process, from baking to assembly. If you would like to make half the batch, then freeze half of the dough to use another time as plain biscuits.
150

g

SuperValu Brown Sugar

firmly packed

50

g

SuperValu Self-Raising Flour

125

g

SuperValu Unsalted Butter

softened
For the witches' hats:
18

-

Cadbury Curly Wurly Squirlies

300

g

Dark Chocolate

roughly chopped

100

g

Fondant

ready-to-roll icing. Orange in colour.

100

g

Fondant

ready-to-roll icing. Green in colour.

36

-

Natural Confectionary Company Jelly Snakes

54

-

Small Sweets

of your choice
Method
1. Beat the brown sugar, butter and egg in an electric mixer until combined. Sift in both flours and the cocoa powder. Beat lightly together until combined to give a smooth dough ball.
2. Roll the dough out between two sheets of parchment paper until it's about 5mm thick. Slide onto a tray and chill in the fridge for about 30 minutes, until firm.

3. Preheat the oven to 180°C/gas mark 4. Line two large baking sheets with non-stick baking paper and set aside. Line a baking tray with non-stick baking paper and set aside also.

4. Using an 8cm round, straight-sided cutter, stamp out 18 discs, re-rolling the dough as necessary. Arrange them spaced apart on the two lined baking sheets as you go. Bake the biscuits in the oven for 10 to 12 minutes, until just firm to the touch. Remove and transfer to a wire rack to cool completely.
5. To make the witches' hats, place the chocolate in a heatproof bowl set over a pan of simmering water, not allowing the bowl to touch the water, or in the microwave in 30 second blasts, stirring between each go until melted. Remove and leave to cool slightly.
6. Using a pastry brush, paint the outside of a wafer cone entirely with melted chocolate. Place it flat side down on the lined tray and repeat with the remaining cones. Pop them into the fridge for 30 minutes to set firm. Reserve the remaining melted chocolate for later.
7. Meanwhile, roll each of the fondant icings out between two pieces of parchment paper until it's about 3mm thick. Cut out nine strips from each, measuring 1.5cm wide and 15cm in length. Cover until ready to use.
8. Once set, fill each cone with two jelly snakes, one Curly Wurly and three small sweets. Melting the remaining chocolate again if necessary, brush a little around the rim of the flat part of the cone. Press the top of a biscuit down on top of it, centred. Then turn it up the right way and sit on the tray. Wrap a strip of fondant icing around the base of the cone to complete the witch's hat. Repeat with the remainder and return to the fridge for 30 minutes to set before serving. These can be made a day or two in advance and kept in the fridge.
Be the first to add a review.