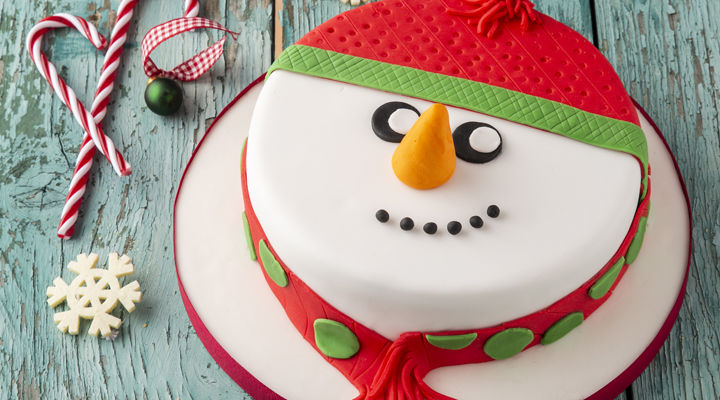 RECIPE OVERVIEW
Start with a 15cm Christmas cake that has been covered with marzipan and white fondant icing and set on an iced 25cm cake board.
25

g

Black Fondant Icing

ready to roll

75

g

Green Fondant Icing

ready to roll

50

g

Orange Fondant Icing

ready to roll

175

g

Red Fondant Icing

ready to roll

0

-

SuperValu Icing Sugar

for dusting

5

g

White Fondant Icing

ready to roll
Method
Dust a work surface with a little cornflour or icing sugar. Firstly, to make the hat, roll about 75g of the red fondant out into a halfmoon shape that's big enough to fit over one large edge of the cake as the snowman's hat. Brush the cake area with edible glue and carefully lift the hat on, smoothing it down with your hands until it's neatly in place. Trim any excess with a small sharp knife to neaten. Lightly score the hat with the small knife to add lines and texture. Use the bottom of a wooden skewer to mark polka dots all over if liked.
Roll the green fondant out and cut a strip that's 1.5cm wide and long enough to go across the cake. Glue onto the straight edge of the hat as a trim and lightly score with the knife to add a knitted texture. Using a 2cm round cutter, stamp out 18 to 20 circles as polka dots for the scarf. Cover and set aside.
For the scarf, roll out the remaining red fondant into a strip 65cm long, 5cm wide and about 3mm thick. It needs to be that long to wrap right around the cake plus a little extra at the front to crisscross. Use a long sharp knife to neaten it off and a smaller sharp knife to cut the ends into scarf-like tassel ends. Lightly score the scarf with the knife for a textured effect too if liked. Brush a little edible glue all around the bottom edge of the cake and carefully place the scarf so it just overlaps at the front.
Using edible glue, stick the green polka dots randomly around the scarf, cutting some of them into halves to use against the edges if liked.
Slice any rolled red fondant trimmings into very thin matchsticks and gather them together to form a pom pom to glue on the top of the hat.
Roll the black fondant icing out and stamp out 2 × 2cm wide discs. Roll the white icing out and stamp out 2 × 1cm wide white discs. Glue into position as eyes, with the white on top of the black.
Shape the orange fondant into a carrot nose shape and glue into position. Roll some of the remaining black icing into several tiny balls to resemble coal pieces and glue them on as a smile.
Store the complete iced cake in a cool, dry place for at least 24 hours to harden.
Be the first to add a review.