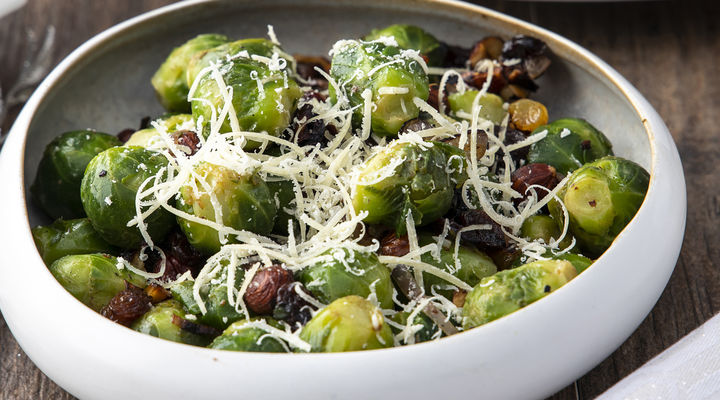 RECIPE OVERVIEW
Time saving tip: You can cut the Brussels sprouts into quarters instead of leaving them whole to cut down on the boiling time. This way, you just need to blanch the sprouts so that they retain their flavour.
2

cloves

Garlic

finely chopped

600

g

SuperValu Brussels Sprouts

100

g

SuperValu Signature Tastes Italian Parmigiano Reggiano

100

g

SuperValu Signature Tastes Luxury Fruit Mix
Method
1. Bring a large pot of salted water to the boil. Add the Brussels sprouts, then reduce the heat and simmer for 8 to 10 minutes, until just softened in the centre. Using a slotted spoon, transfer the sprouts to a bowl of ice water to stop the cooking process. Set aside until needed.
2. Heat the olive oil in a large frying pan over a medium to high heat. Add the fruit mix, hazelnuts and garlic and cook for 1 minute, until just softened. Increase the heat to high, then add the butter and the reserved Brussels sprouts to the pan. Cook, stirring occasionally, for 4 to 6 minutes, until
the sprouts are lightly browned and tender. Add half the grated Parmesan and all of the lemon zest. 3. Toss together and check the seasoning.
4. Remove from the heat and keep warm until needed, then serve with the rest of the grated Parmesan scattered on top.
Be the first to add a review.