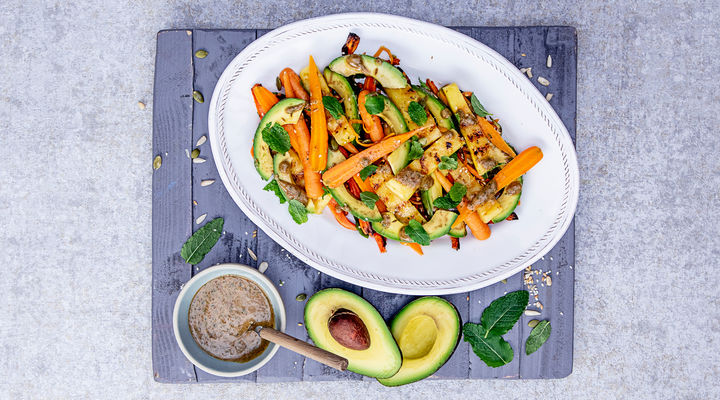 RECIPE OVERVIEW
The roast shallot salad dressing in this recipe can be made up to one week in advance and kept in a glass jar in the fridge. The carrots can also be prepped as part of other meals and washed herbs stored between damp kitchen paper will last longer
than in their packets.
300

ml

Light Olive Oil

plus extra for cooking

2

-

SuperValu Avocado

ripe

120

g

SuperValu Baby Carrots

20

g

SuperValu Fresh Mint

50

g

SuperValu Goodness Pumpkin Seeds

0.25

-

SuperValu Pineapple

(a quarter of the pineapple)

200

g

SuperValu Spiralised Carrots

300

g

Supervalu Organic Carrots
Method
1. Toast the seeds.
2. Make your dressing. Preheat the oven to 160°C/gas mark 3. Place the unpeeled shallots on a baking sheet and cook in the oven for 35 minutes. Allow to cool, then peel and blend with the oil and 80ml of vinegar to make a creamy dressing. Taste, then add salt and pepper to season and taste again.
3. Prep the carrots. Prepping the carrots can be part of the veg you are cooking for something else as early as three days in advance, as they'll keep for three days in an airtight container in the fridge. Alternatively, they can be placed in the oven 10 minutes after the shallots in Step 2 above. Preheat the oven to 160°C/gas mark 3. Rinse the organic carrots and quarter lengthways, then place on a baking tray. Drizzle with 1 teaspoon of oil and 1 teaspoon of vinegar, then sprinkle with salt. Roast in the oven for 25 minutes. Remove from the tray and allow to cool. Microwave the spiralised carrots according to the packet instructions.
4. Prep the griddle. Cut the pineapple into 5 x 3cm chunks and cut the baby carrots in half. Heat a griddle pan over a high heat. Brush the pineapple and baby carrots with oil, then griddle the fruit and veg for 2 minutes on each side.
5. Add the avocado. Cut the avocados open lengthways and remove the stone. Slice the avocado inside the skin, following the natural curve of the avocado using the tip of the knife. Gently push a dessertspoon between the flesh and the skin of the avocado. Following the curve of the avocado, scoop the slices out of the shell. Dress with half of the lemon juice to keep it from turning brown.
6. Assemble the salad. Shred the mint, discarding the stems. The mint can be prepped and covered with damp kitchen paper up to two days in advance. Place the roasted carrots on a platter, then top with the spiralised carrots, pour over the remaining lemon juice and season with a pinch of salt. Scatter over the pineapple, avocado and baby carrots. Top with the mint and seeds, then a dollop of the shallot dressing.
Be the first to add a review.