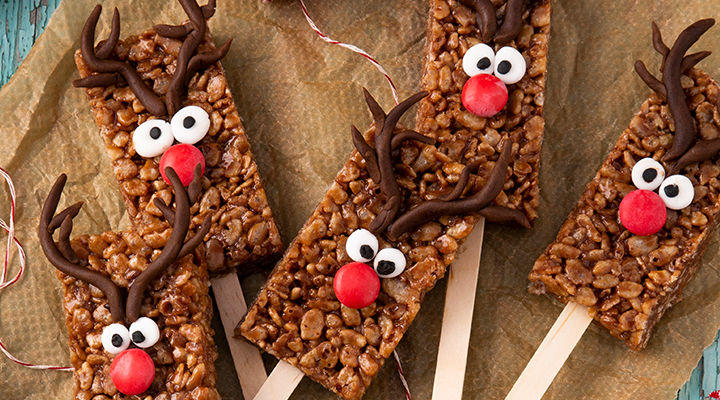 RECIPE OVERVIEW
On Dancer.. on Prancer.. on Donner.. and Blitzen!✨ Sharon Hearne-Smith's Reindeer Rice Krunchie Bars will be a magical treat for the kids this Christmas.
1

-

Edible Writing Pen

black

4

-

Mars Bars

roughly chopped

0

-

SuperValu Sunflower Oil

for greasing

5

g

White Fondant Icing

ready to roll
To decorate
25

g

Dark Brown Fondant Icing

ready to roll
Method
Grease an 18cm square baking tin or dish with a little sunflower oil, then line with non-stick baking paper and set aside.
Place the Mars Bars and butter in a large saucepan set over a gentle heat to melt, then remove the pan from the heat. Reserve 1 tablespoon for 'gluing' the decorations on later. Add the Rice Krunchies to the pan and stir gently but quickly until completely coated.
Transfer to the prepared tin or dish and spread out level, cover and refrigerate for at least 1 hour, until set firm. This can be made up to a few days in advance.
Meanwhile, prepare the decorations. Shape the brown fondant icing into eight pairs of antlers and the white into eight pairs of eyeballs. Mark pupils on the eyeballs with the black ink pen or by shaping tiny dots of the black fondant icing, sticking them on with a little of the reserved chocolate mixture, melting it if necessary.
Cut the set mixture into eight evensized rectangular bars and carefully insert a pop stick, if using, into one short end. Using the reserved chocolate, dab a little on the back of each antler and eyeball to stick to each bar to create a reindeer face. Stick a red Smartie onto the face to complete the Christmas reindeer look.
Be the first to add a review.