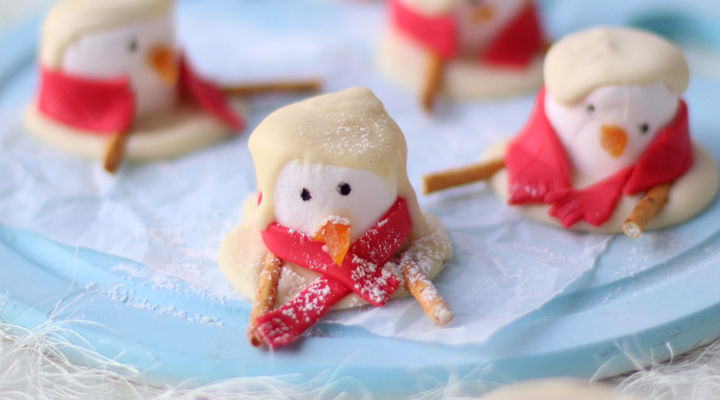 RECIPE OVERVIEW
These cute snowmen make fun edible gifts for friends, family or a teacher. They are also a great way to get kids involved in cooking, as this is an ideal play activity that they are sure to love. Get creative with different scarf colours and patterns as well as seeing who can come up with the best melted snowman shape and face! This recipe will easily scale up to make a large batch if liked.
1

-

Dried Apricots

cut into 6 tiny nose-like pieces

1

-

Edible Writing Pen

1 black marker pen to create eyes

4

-

Pretzel Sticks

each one snapped into three even-sized pieces

1

-

SuperValu Icing Sugar

a little for dusting
Method
1. First, prepare the scarves. Dust a little icing sugar or cornflour on a clean surface and roll the icing out until it's a little bigger than 6cm x 15cm and about 2mm to 3mm thick. Use a sharp knife to cut to exactly this size rectangle, then cut out 6 x 1cm-wide strips down the length. Using a small sharp knife, cut into each of the ends a little to make a traditional scarf trim. You can use the knife to score a pattern along the scarf and/or use the tip of a wooden skewer to make polka dots. Cover and set aside.      
2. Snap the chocolate into a bowl and either melt in the microwave in 30-second blasts, stirring between each go, or over a pan of simmering water shallow enough that the water doesn't touch the bottom of the bowl. 
3. Line a tray or baking sheet with non-stick baking paper. Place 6 tablespoons of the melted chocolate on the tray, spaced well apart, spreading them into 6cm circles with the back of the spoon. Immediately sit a marshmallow, flat side down, in the centre to stick. Sit two pretzel stick pieces pointing out of each marshmallow and in the chocolate as arms. Wrap a prepared scarf around the base of each marshmallow, criss-crossing it at the front. Dip one end of the apricot pieces in the melted chocolate to stick to the front of each marshmallow as a nose. Divide the remaining chocolate over the top of each marshmallow, allowing it to drip down the sides and back. Use the edible ink pen to mark eyes above the nose. Making them slightly crooked will add to the melting snowman effect. 
4. Finally, refrigerate for 15 minutes, until set firm. These will keep for a few days covered in the fridge.
Tip: Use a black icing tube or shape tiny balls of black fondant icing to use as eyes instead of the edible marker pen if preferred. 
Be the first to add a review.