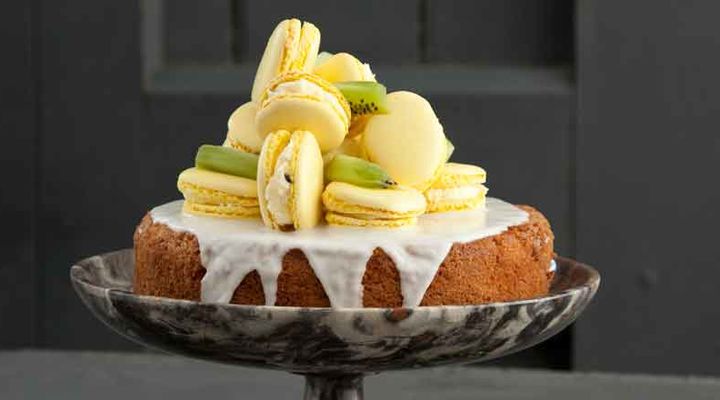 RECIPE OVERVIEW
The egg whites must be weighed for this recipe to work. It has to be specific!
170

g

Caster Sugar

(150g + 20g)

110

g

Fresh Egg

whites (55g + 55g)

150

g

SuperValu Ground Almonds

150

g

SuperValu Icing Sugar

1

tsp

Yellow Powdered Food Colouring

not liquid as it changes the consistency
Method
Preheat the oven to 140°C/gas mark 1. Line a baking sheet with non-stick baking paper.
Sift the ground almonds and icing sugar into a large bowl and add the fi rst 55g of egg white and the food colouring. Stir to combine.
To make the Italian meringue, pour 150g of caster sugar and the water into a pan set over a medium heat. Simmer until it forms a syrup and reaches the soft ball stage (114°C to 116°C on a candy thermometer).
Meanwhile, whisk together the remaining 55g of egg white and the 20g of caster sugar in a spotlessly clean, dry bowl. Lightly whisk until they get light and frothy, then add the hot syrup in a steady stream. Quickly beat until the meringue becomes silky and has cooled down.
Fold the meringue into the almond mixture until fully incorporated. Work the paste until it is soft enough that it falls back into a smooth shape when stirred. Spoon the paste into a piping bag fitted with a nozzle and pipe into 3cm circles on the lined baking sheet.
Bake in the oven for 14 to 16 minutes, until the shells are slightly set. The centre of the macaron will still be soft until it cools down, but it is definitely cooked after 16 minutes. Open the oven door slightly every 3 to 4 minutes to let any steam escape. This will ensure the exterior doesn't crack for a smooth finish. Leave to cool completely before removing from the baking sheet.
Be the first to add a review.