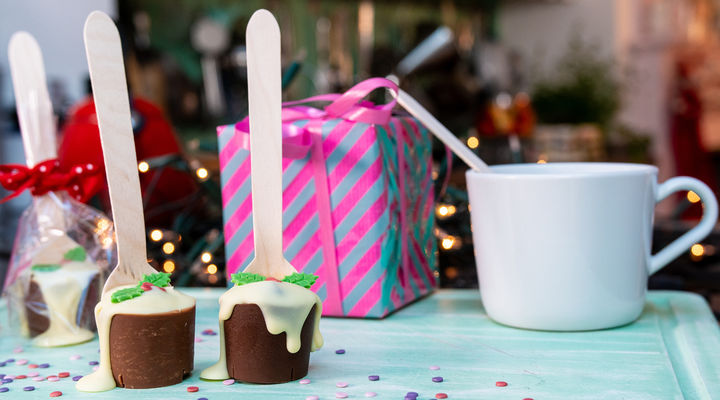 RECIPE OVERVIEW
The hot chocolate spoon craze has hit fever pitch and the great news is that it's really easy to make your own. Kids will no doubt want to do this whole recipe on their own, but be sure to help out with melting the chocolate – and of course make sure that they aren't eating all the ingredients before they make it into the cups!
5

g

Green Ready-to-Roll Fondant Icing

100

g

Milk Chocolate

or Dark Chocolate

12

-

Red Edible Confetti Pieces from the Romance Mix of Glimmer Confetti by Scrumptious

1

portion

SuperValu Icing Sugar

For Dusting
Method
1. Snap the milk or dark chocolate into a small heatproof bowl and melt it in the microwave in 30-second blasts, stirring between each go, or over a pan of simmering water shallow enough that the water doesn't touch the bottom of the bowl.   
2. Divide the melted chocolate evenly between the shot cups, then sink four marshmallows into each one. Sit the wooden teaspoon down into the melted chocolate, sitting it towards one side. Refrigerate for 30 minutes, until set firm. 
3. Meanwhile, dust a clean work surface very lightly with icing sugar or cornflour. Roll the fondant icing out until it's about 2mm thick. Use the small holly leaf shape to stamp out eight leaves. Set aside.
4. Melt the white chocolate as before and leave to cool a little.
5. Remove the chocolate spoons from the cups – a little wiggle and pull should do it. Stand them upright on a plate or tray lined with a piece of baking parchment. Spoon a little of the melted white chocolate over each one, allowing it to roll down the sides. Immediately arrange two holly leaves and three red edible confetti pieces on each one to stick. Return to the fridge for 15 minutes, until the toppings are set firmly in place.
6. Serve with a cup of hot milk for stirring and melting. 
Tips:
These will keep for up to two weeks wrapped in the fridge. 
Layer up half milk chocolate and half dark chocolate for a triple chocolate effect if liked.  
Flavour the chocolate with finely grated orange zest, peppermint extract, a little cayenne pepper for a kick or espresso coffee powder if liked. 
You will also need:
-4 plastic shot cups or an ice cube tray with large holes, tiny food storage pots or paper mini muffin cases
-4 wooden teaspoons, candy cane sticks or wooden or paper lollipop sticks
-The smallest leaf shape from the Holly Leaf Plunger Stamper set
Be the first to add a review.