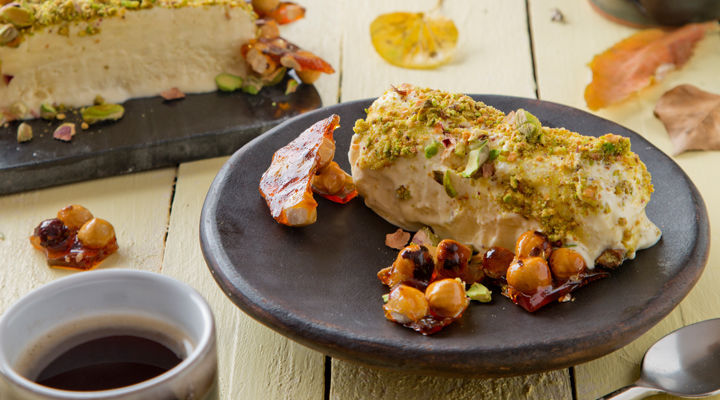 RECIPE OVERVIEW
Another great gluten free dessert to awaken your taste buds.
100

g

Honey

organic if possible

300

g

SuperValu Goodness Pistachio Nuts

1

measure

SuperValu Sunflower Oil

for greasing

1

-

SuperValu Vanilla Pod

split in half lengthways and seeds scraped out
Method
Put the milk, honey and vanilla seeds and pods in a saucepan set over a medium heat, stirring to dissolve the honey.

Meanwhile, whisk the egg yolks and sugar in a medium-sized bowl until pale in colour.

Bring the milk mixture to the boil, then pour it over the egg yolk mixture. Mix well, then pour the combined mixture back into the saucepan. Return to a medium heat for 1 to 2 minutes, until the custard coats the back of a spoon.

Pour into a clean bowl through a fine-mesh sieve and cover the surface with cling film so that it doesn't form a skin. Refrigerate until completely cold.

Whisk the cream until soft peaks form. Carefully fold the whipped cream through the chilled custard using a whisk to gently combine the two together.

Lightly grease an 8cm x 10cm x 8cm tin with sunflower oil (or 2 x 450g deep loaf tins) and line with cling film, allowing a good 7.5cm extra to hang over the sides of the tin. Pour the custard mixture into the tin, then tap the tin lightly on the work surface to settle the mixture into the
tin. Cover the top with the excess cling film and freeze overnight.

The next day, roughly chop 100g of the pistachio nuts and blitz the rest in a food processor until they're fine crumbs. Remove the parfait from the tin. Cover it completely with the chopped and blitzed pistachios, then cover with cling film again and return to the freezer.

To make the praline, preheat the oven to 180°C/gas mark 4. Have a large piece of non-stick baking paper ready.

Put the hazelnuts on a baking tray and toast in the oven for 5 to 8 minutes, until golden. Remove from the oven and set aside.

Put the sugar and water in a heavy-based saucepan, mix well and set over a medium heat until the sugar dissolves. Turn up the heat and keep swirling the pan until you get a golden caramel colour. Add the warm hazelnuts and swirl them until they are coated with caramel. Carefully pour out onto non-stick baking paper and quickly spread them out before they harden. Allow to go completely cold,
then roughly chop or put in a food processor and blitz.

To serve, cut the parfait into slices with a sharp knife, then scatter over the hazelnut praline or serve large pieces of it on the side.
Be the first to add a review.