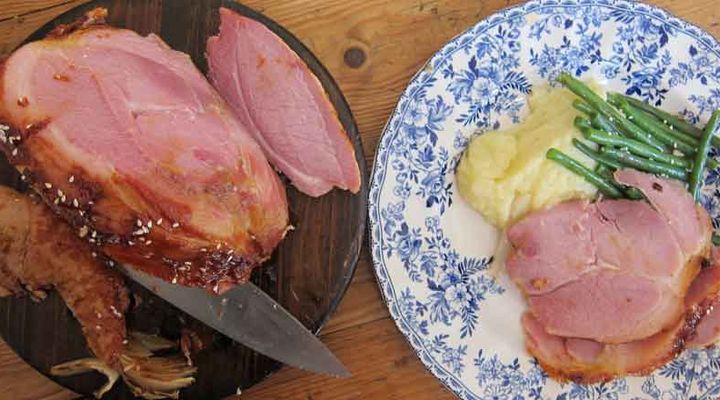 RECIPE OVERVIEW
Let it rest for around 20 minutes before serving, then tuck in!
1

slice

SuperValu Fresh Ginger

1

-

SuperValu Fresh Irish Unsmoked Ham Fillet 2kg
Glaze
1

tsp

SuperValu Chilli Flakes

1

tbsp

Wholegrain Mustard
Green Beans
3

tbsp

Sesame Oil

toasted

2

tbsp

Sesame Seeds

toasted
Method
Place the ham into a large saucepan and cover with water. Add a carrot, and bay leaf. Bring slowly to the boil, then simmer for 20 minutes per pound. Once cooked, remove from the pan. Using a sharp knife carefully remove the skin from the ham, then score the fat in a criss-cross (diamond) pattern.
Meanwhile, Preheat the oven to 180ºC/350ºF/gas mark 4. 
Then, combine the glaze ingredients in a small bowl. Brush the surface with the glaze then place into a preheated oven (180C/350F/Gas Mark 4) for 15 - 20 minutes until golden brown, then remove from the oven.  Rest for 20 minutes, covered in a foil tent, before carving.
10 minutes before serving, Bring a large saucepan of salted water to a boil. Add the green beans to the water and blanch for about 6 minutes, until the beans are just tender or al-dente if preferred. Remove from the water into a bowl and toss in toasted sesame oil, sesame seeds and chilli flakes.
Serve with mashed potato.
Be the first to add a review.