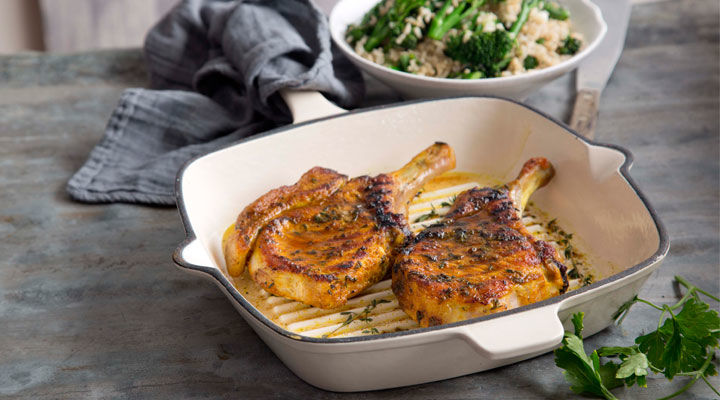 RECIPE OVERVIEW
Broccoli will keep in the fridge for a few days but it doesn't freeze well, but if you have to freeze it, blanch it first. It's a lovely addition to the rice salad, which is sure to become a family favourite.
12

-

Spring Onions

sliced

4

tbsp

SuperValu Fresh Coriander

chopped

4

tsp

SuperValu Fresh Thyme
Method
Combine the garlic, turmeric, thyme and olive oil in a bowl or flat ceramic dish, add the pork chops and turn to coat in the marinade. Cover and leave to marinate for at least 30 minutes at room temperature or up to a day in the fridge.
Preheat the barbecue or a griddle pan to medium–high.
To make the rice salad, bring a large saucepan of water to boil, add the brown rice and cook as per the packet instructions. Drain and set aside.
Heat a wok or large frying pan over a very high heat. When it's smoking hot, drizzle in the olive and add the broccoli. Stir-fry for 1 minute, add a splash of water and immediately place a lid over the wok. Continue cooking for 2 to 3 minutes, until the broccoli spears have softened but still have some crunch.
Transfer the broccoli to a large serving bowl. Add the cooked brown rice, spring onions, coriander, fish sauce, oyster sauce and lime zest and juice. Combine gently and check the seasoning.
Place the marinated pork chops on the barbecue or griddle pan and cook for 5 minutes on each side, adding an extra minute or two if it's still a little pink in the middle. Serve immediately with the rice salad. 
Be the first to add a review.