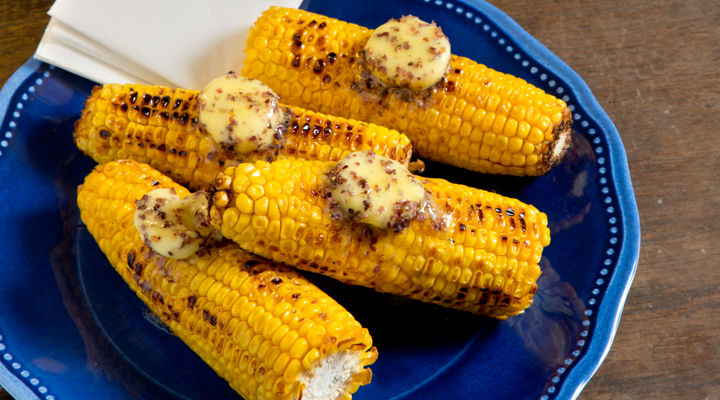 RECIPE OVERVIEW
No BBQ is complete without mouth-watering buttery corn-on-the-cob.
25

g

Butter

unsalted, softened

1

tbsp

Ground Black Pepper

0.5

tsp

Irish Seaweed Seasoning
Method
Combine the butter and seaweed in a small bowl, then spoon onto a piece of parchment in a line and mould into a sausage shape.
Roll the parchment away from you to tightly wrap around the butter, then twist each end to make an 8cm x 2cm log.
Place in the fridge for at least 1 hour to set. Heat a griddle pan on a high heat.
Toss the corn in the oil.
When the pan is smoking hot, add three cobs to the pan at a time. Grill for 8 minutes, until charred on all sides, turning throughout.
Repeat with the remaining corn.
Put the corn cobs on a platter. Slice the butter into six pats and place a piece on top of each cob to melt.
Sprinkle with freshly ground black pepper and serve while still warm, with plenty of napkins.
Healthy Tip : Swap out your salt for some dried milled seaweed. It gives a similar salty taste but without the salt intake. It's magic on scrambled eggs, but experiment with other dishes too, as it adds an extra savoury or umami flavour to food.
Tip:
You can make the butter ahead of time. It can be made and stored in the freezer too. You can also swap the seaweed for other herbs, which is a great way to use leftover herbs and you'll always have a handy knob of herby butter in the freezer.
Be the first to add a review.