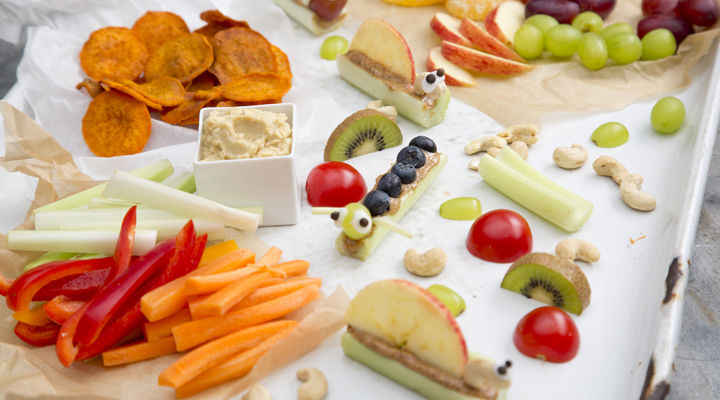 RECIPE OVERVIEW
Easy after-school snacks by The Happy Pear.
Method
Celery snails and caterpillars
Prep time: 10 minutes 
To make the snails, f

ill 

the

 

celery stalks with nut

 butter

. Top with one

 

thin 

slice of apple, orange, kiwi, cucumber or 

tomato –

this will 

be the snail's shell. A

dd a cashew nut for the head. Use 

a tiny dab of nut 

butter to glue on 

the 

candy eyes.

To make the caterpillars, 

cut one piece of celery into very small, thin matchsticks to make antennae. F

ill 

the

 

celery stalks with nut

 butter

. T

op with 

a line of 

grapes, blueberries or cherry tomatoes for the body and head. Use 

a tiny dab of nut

 butter 

to

 

glue

 on 

the 

candy eyes

 and press the celery antennae into the top of the head.
Skinny baked sweet potato crisps
Prep time: 5 minutes 
Cooking time: 60 to 90 minutes 
Preheat the oven to 110

°C/gas mark ¼. Line two

 baking sheets with 

non-stick baking

 paper.

Using a mandolin

 slicer, 

cut

 t

he sweet potato into very thin 

slices.

 If you don't have a mandolin, you can cut the potato into super-thin slices using your sharpest knife. Put in a

 mi

xing bowl and pour over the oil. Add a decent pinch of salt and 

mix well 

to coat all the crisps.

Put the potatoes on the lined baking sheets in a single layer. 

Bake 

in the oven 

for 1 to 1½

 hours, until crisp

, rotating

 the sheets

 halfway through. Allow the 

crisps

 to 

cool

 for 5 minutes before eating.

Store 

any 

leftovers in an airtight container

 for up to a week

.
Easy hummus
One of the easiest after-school snacks of all is to simply make a batch of hummus and toast some wholemeal pitta breads for dipping. We put three or four garlic cloves in our hummus recipe, but if you don't like your hummus that garlicky, just use less. 
Prep time: 5 minutes
Blend all 

the 

ingredients together in 

a 

food processor until you reach 

your 

desired texture

, but we like our hummus to be reasonably smooth

.

Serve with toasted 

wholemeal pitta, crackers, falafel, raw carrot sticks or simply eat off straight off a spoon

!
Crudités with almond butter dip
Prep time: 5 minutes
Prep a selection of raw fruit and veg, such as apple wedges, banana slices, clementine segments, whole grapes and carrot, celery and cucumber sticks. Assemble the prepped fruit and veg on a plate and put a bowl of almond butter in the middle for dipping.
Be the first to add a review.