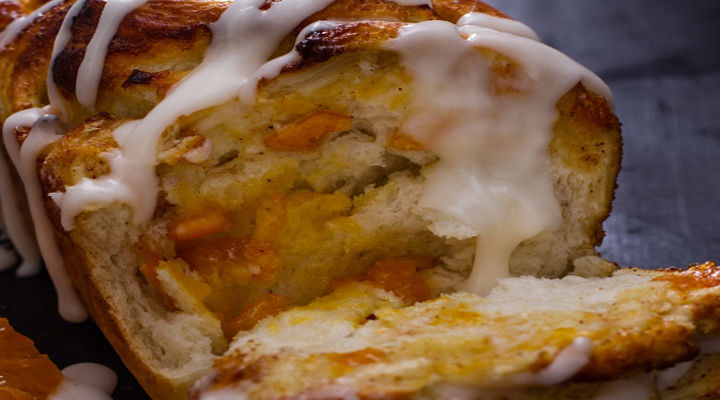 RECIPE OVERVIEW
A layered tea bread, filled with cinnamon-spiced ClemenGold
Method
Dough
Sift the flour, salt and sugar into the bowl of an electric mixer; add the instant yeast and pour in the melted butter.
Using the dough hook attachment and the mixer on medium speed; add enough of the warm water to bring together soft dough. The dough should knead easily and not stick to your hands or the bowl.
Continue to knead the dough for about 10 minutes until elastic and smooth.
Form the dough into a ball and place into a floured bowl. Cover with a damp cloth and leave the dough in a warm spot to rise until it has doubled in size.
Knock back the dough, knead again and divide into two equal pieces.
Use a rolling pin on a floured surface to roll out the dough, as thinly as possible, into two rectangles. Brush with the whisked egg.
Filling
Combine the icing sugar and cinnamon in a bowl, divide the mixture in half and sift over the two dough rectangles.
Spread an equal amount of ClemenGold marmalade over the cinnamon and sugar layer of both rectangles.
Squeeze out the excess juice from the chopped ClemenGold and sprinkle onto the marmalade layer – half each per rectangle.
Cut one of the dough rectangles into six long strips.
Build a stack by layering the strips on top of each other.
Slice the stack into six equal stacks and place these smaller stacks upright across the width of a bread pan that has been sprayed with non-stick spray and lined with baking paper.
Repeat the stacking process with the remaining dough rectangle.
Cover the dough with a damp cloth and leave to rise again.
Bake in an oven preheated to 180˚C for 40 minutes, until the loaves are well risen and golden.
Leave to cool.
Icing
Sift the icing sugar into a large mixing bowl.
Add the melted butter and whisk in enough of the milk to make a pourable, but not too runny, icing.
Pour the icing over the loaves and leave to set.
Be the first to add a review.