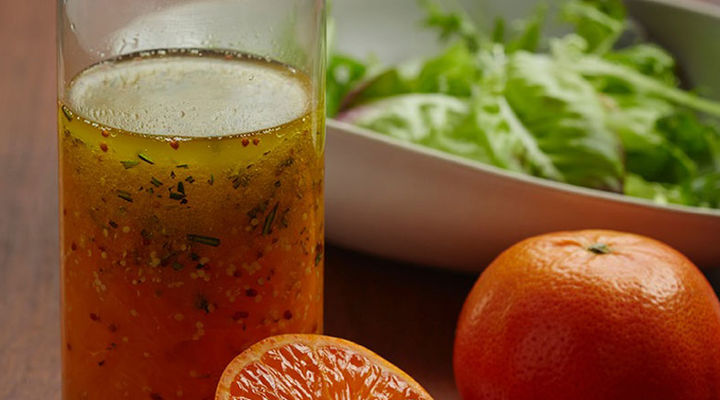 RECIPE OVERVIEW
The combination of sweet citrus with rosemary and mustard makes for a versatile dressing – not only for your favourite green salad, but it's also perfect to marinate chicken in, dress fish fillets with or to drizzle over veggies. 
0

-

Black Pepper

to taste

100

ml

Olive Oil

or avocado oil

1

tsp

SuperValu Fresh Rosemary

chopped

0

-

SuperValu Salt

to taste

0.5

tsp

SuperValu Signature Tastes Clemengold

freshly grated rind

5

tbsp

SuperValu Signature Tastes Clemengold

freshly squeezed juice

1

-

SuperValu Signature Tastes Clemengold

peeled and segmented
Method
Place the oil and vinegar in a mixing bowl. Add ClemenGold rind and juice with mustard and honey and whisk together until well blended.
Cut the ClemenGold segments into smaller pieces and stir with rosemary into the oil mixture. Season to taste with salt and pepper.
Serve the dressing on your favourite combination of salad leaves and fresh herbs for a delicious, yet simple salad. The dressing keeps well in the fridge for up to a week. If made in advance, only add the segment pieces just before serving.
More ways to use this dressing:
1. The flavours of this dressing combine well with roasted beetroot and creamy feta or goats' cheese, served on rocket as a salad or starter. Add drained chickpeas as a light lunch.
2. For an alternative salad idea, drizzle the dressing over cucumber ribbons, thinly sliced baby cabbage and more ClemenGold segments.
3. Use the dressing as a marinade for chicken, fish fillets or even pork and lamb.
4. The ClemenGold dressing is also perfect to add when roasting butternut or sweet potato .
5. Use the dressing as a cook-in-sauce. Place chicken portions with onion and butternut or brinjal in an oven dish. Add more ClemenGold segements if preferred. Pour the dressing over and roast at 180 °C until cooked. Serve on herby couscous.
Be the first to add a review.