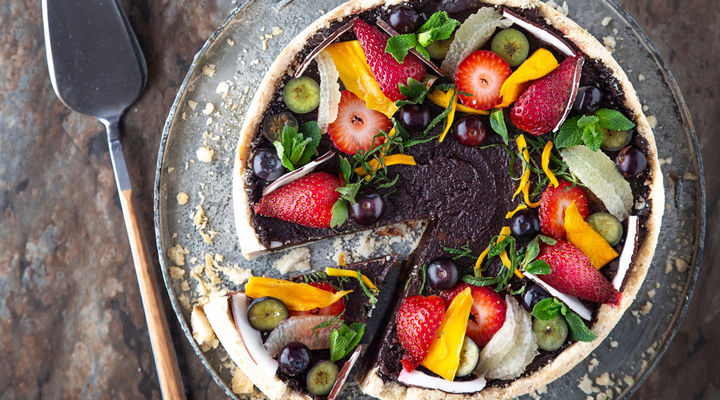 RECIPE OVERVIEW
The dynamic duo of Steve and David Flynn of the Happy Pear share their favourite midweek meals, packed with clever veggie tips and so full of flavour that you might even fool the odd carnivore.
For the Ganache:
150

g

Dark Chocolate

at least 54% cacao solids with no dairy
For the Shortcrust Pastry:
270

g

Plain Flour

Plus extra for dusting
Method
1. Soak the cashew nuts overnight in a bowl of cold water. If you don't have time to soak them, just fill and boil the kettle and soak them in the just-boiled water for 30 minutes. Drain and rinse, then set aside.
2. Use mint tea or your favourite tea to add another flavour dimension to this tart. Just brew the tea in less water than normal so that it's more concentrated and leave to cool. Use 40ml of this strong tea instead of the 40ml of water.
3. Preheat the oven to 200°C/gas mark 6. Line a circular pie dish about 20cm in diameter or four small individual circular tins with non-stick baking paper.
4. To make the shortcrust pastry, put the flour, coconut oil and salt in a food processor and blitz until it looks like breadcrumbs. With the motor running, add just enough of the cold water until it comes together. Dust a work surface with a little flour, then tip out the pastry and knead for a minute to bring it together. Wrap in cling film and set aside in the fridge for 5 minutes to firm up.
5. Dust your work surface with a little more flour if needed, then roll out the chilled pastry to about 5mm in thickness. Line the tin loosely with the pastry so that you can press it into the corners. Trim the excess pastry, but ensure the pastry comes
up slightly over the edges so that it won't fall back down when it bakes. Cover the pastry with a piece of baking paper and weigh it down with dried beans. You'll need about 100g for a large pie dish. Bake in the oven for 15 minutes. Take out of the oven, remove the baking paper and dried beans and set aside to allow the pastry to cool and firm up.
6. To make the ganache, melt the chocolate and coconut oil together until it's runny. Transfer to the food processor with the soaked and drained cashews, water or tea, maple syrup and vanilla. Blend on high speed for 5 to 8 minutes, until
the texture is wonderfully smooth.
7. Once the shortcrust pastry is cooled, pour in the ganache and smooth the surface with a spatula. Place in the fridge for 2 hours to set. 
8. Remove from the fridge and decorate with anything you like on top, such as cacao nibs, chopped
pistachios, fresh raspberries or even rose petals. This is very rich, so it's best served in small slices.
LESS IS MORE
The clever thing about quality food is that the big flavours mean you eat less, so there's no quick hit with dark chocolate. We suggest this cake serves 10 to 12, but even a small
sliver of this will satisfy if you want to stretch to even more servings because of its rich and complex flavours.
Be the first to add a review.