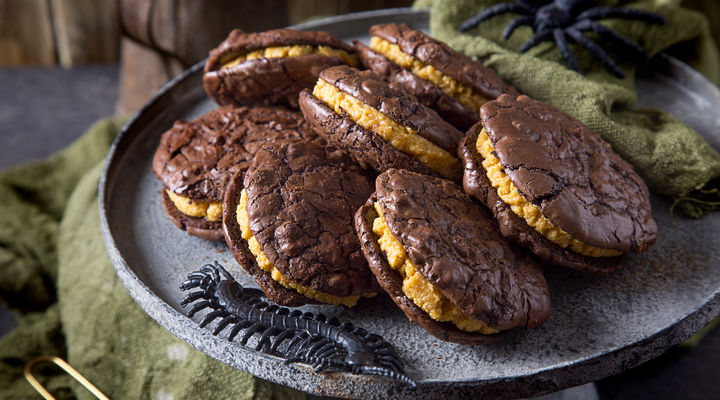 RECIPE OVERVIEW
While sweet potato might seem like an odd ingredient in a treat recipe, it is a great way to get vegetables into unsuspecting kids, while adding natural sweetness. These divine little numbers aren't going to last for long. They are gluten free (be sure to use a gluten free baking powder) which will keep coeliacs more than happy too. Besides the flavour, the colour combination of the filling and cookies give classic Halloween vibes, so these are sure to be a party table or trick or treat hit.
For the Cookies:
150

g

Chocolate Chips

milk or dark chocolate

50

g

SuperValu Ground Almonds
For the Filling:
25

g

SuperValu Icing Sugar

50

g

Unsalted Butter

softened
Method
1. Peel and dice the sweet potato and steam in a pan for for 8 to 10 minutes, until tender.
2. Preheat the oven to 190C (fan 170C), 375F, Gas Mark 5.  Line a large baking sheet with parchment paper.
3. Place 50g of the chocolate chips in a medium bowl with the butter and melt in the microwave in 30 second blasts, stirring between each go. Alternatively, melt over a pan of simmering water, shallow enough that the water doesn't touch the bowl. Sift the cocoa powder over, add the ground almonds, vanilla extract and salt and stir well together. Leave to cool until needed.
4. Place the egg and sugar in a medium bowl and using an electric mixer, whisk them for about 3-4 minutes until pale and fluffy.
5. Stir the baking powder into the chocolate mixture. Then add the egg mixture, folding it through gently, being careful not to knock too much air out of it. Finally, fold in the chocolate chips to give a thick mixture.
6. Place 16 tablespoonfuls of the mixture, spaced apart on the baking sheet. Using the back of the spoon, spread them into about a 2 inch wide circle. Bake for 10-12 minutes.
7. Once the potato is cooked, blitz in a food processor until really smooth and leave to cool completely. Spreading it out on a plate or baking tray will speed this up. Once cool, return the potato to the processor. Add the butter, icing sugar and cinnamon and blitz until well combined.
8. The cookies are cooked when the edges are set but the centre is still a little soft. Leave to cool a little on the tray before transfer to a cooling rack until completely cool.
9. To assemble, spoon a dollop of the filling mixture (about 25g) onto the underside of each of 8 cookies. Piping the mixture on from a piping bag set with a plain 1cm nozzle (or cut opening of a disposable bag) will make for a neat job of this if liked. Sandwich them together with the base of a second cookie against the filling. Arrange on a plate or cake stand and serve.
TIP
Adding liquorice strips into each side of the cookies would create fun spider cookies.
Be the first to add a review.