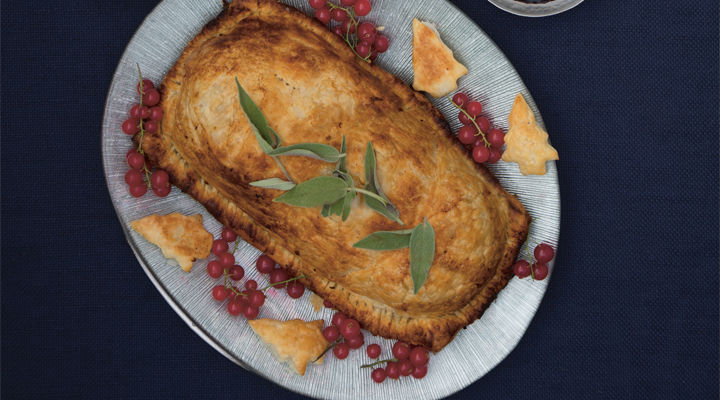 RECIPE OVERVIEW
We've made veg Wellingtons for Christmas dinner plenty of times and they've always gone down a treat. This Wellington is easy to make, tasty and has a real wow factor.
Ingredients
3

medium

Carrots


about 200g, grated

100

g

Cashew Nuts




1

pinch

Cayenne Pepper




150

g

Couscous


cooked

1

portion

Gravy


to serve

0.5

tsp

Ground Black Pepper




0.5

-

Lemon


juice only

2

medium

Onion


thinly sliced

2

-

Parsnips


about 150g, grated

2

sheets

Ready-to-roll Puff Pastry


thawed

1

portion

Redcurrants


to garnish

1

tsp

Salt




2

tbsp

Soy Sauce


or tamari

0.5

bunch

SuperValu Fresh Rosemary


finely chopped

0.5

bunch

SuperValu Fresh Sage


finely chopped, plus extra to garnish

4

tbsp

SuperValu Oil




3

tbsp

SuperValu Signature Tastes Cranberry Sauce


to serve

200

g

Vacuum-Packed Cooked Chestnuts



Method
Take the pastry out of the freezer the night before and put it in the fridge to defrost overnight.
Preheat the oven to 180°C/gas mark 4. Line a baking tray with non-stick baking paper.
To make the chestnut cashew stuffing, peel and thinly slice the onions. Chop any rough gnarly bits off the carrots and parsnips and grate them. There's no need to peel the veg, as there's a lot of goodness in the skin.
If your cashew nuts are not roasted, then put them in a small dry pan set on a high heat and toast them for 5 to 8 minutes, stirring occasionally, till they start to go golden, making sure they don't burn. Set aside to cool.
Put 2 tablespoons of the oil in a large frying pan or pot set on a medium heat. Add the onions and sauté for 5 minutes, stirring regularly, until they start to go translucent. Add the grated carrots and parsnips and sweat for 5 more minutes, stirring regularly. Remove the pot from the heat.
Meanwhile, crush two-thirds of your roasted cashew nuts by putting them in a food processor and pulsing until they are finely chopped. If you don't have a food processor, you can crush them by wrapping them in a clean tea towel and bashing them with a small pan or rolling pin until they get all mashed up and fine.
Finely chop the cooked chestnuts and combine with the sage and rosemary. Add to the pan along with the soy sauce or tamari, salt, pepper and cayenne. Add the remaining one-third of the unbroken cashew nuts together with the broken-up pieces and mix well. Taste the stuffing and season if you think it needs any more salt or pepper.
Add the cooked couscous and lemon juice to the stuffing and put the pan back on the heat. Cook through for a couple more minutes, stirring well, until everything is warm and well mixed.
To assemble the Wellington, lightly brush one sheet of pastry with the remaining 2 tablespoons of oil on the top side and put on the lined baking tray.
Put the cashew chestnut filling into the centre third of the pastry, leaving a third of the pasty clear on either side and also leaving a little space on each end so that you can properly seal your Wellington. Form the filling into a smooth mound.
Place the other sheet of pastry on top of the mound. Bring the pastry around the filling from both sides so that it covers the filling completely from both ends and brush a little oil on top. Trim any excess pastry from the edges. You can use any leftover pastry to make Christmas-themed shapes. Brush the entire outer layer of the pastry with oil to seal.
Bake in the oven for 25 to 30 minutes, until the pastry starts to turn golden brown and the kitchen smells fab! Garnish with fresh sage and redcurrants. Serve with gravy and cranberry sauce on the side for a magical Christmas meal.
Be the first to add a review.