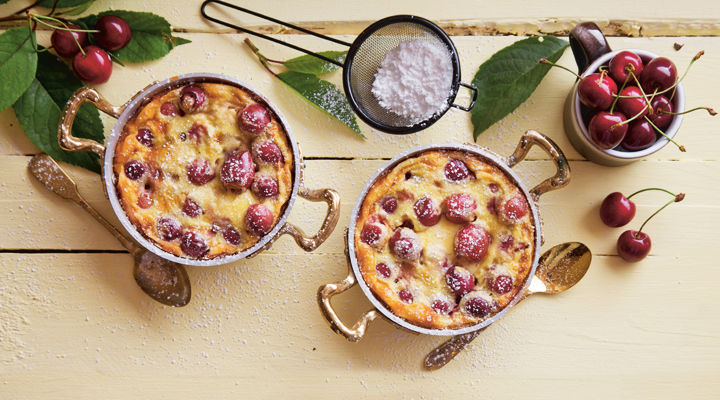 RECIPE OVERVIEW
Clafoutis isn't a super-sweet dessert, but it's a classic way to enjoy mountains of cherries when they are in season. It also looks pretty impressive for serving to friends and family for Sunday lunch.
1

knob

Butter

for greasing

1

measure

Caster Sugar

for dusting

80

g

Gluten Free Plain Flour

1

measure

SuperValu Icing Sugar

for dusting

1

portion

SuperValu Vanilla Ice Cream

to serve
Method
Preheat the oven to 170°C/gas mark 3. Grease six ramekins or 4.5cm x 5.5cm shallow dishes with butter and dust with a little caster sugar, tapping out the excess sugar.

Whisk together the eggs, honey, cream, milk and kirsch in a medium-sized bowl.

Sieve the flour into a large mixing bowl. Make a well in the centre and pour in the wet ingredients. Whisk into a smooth batter, then pour the batter through a fine mesh
sieve into a jug.

Drain the cherries and remove any stones. Divide them equally between the ramekins.

Before pouring the batter into the ramekins, give it a good stir to make sure the flour is evenly distributed. Cover the cherries with the batter. If using ramekins,
fill them three-quarters full to allow the batter to rise.

Place the ramekins on a baking tray and bake in the oven for 15 to 20 minutes. Once baked, they will have increased in height and be a golden colour. If you press
them lightly in the middle they will give but return to their shape.

Allow to cool slightly, then dust with icing sugar. Serve with crème anglaise or ice cream.
Be the first to add a review.