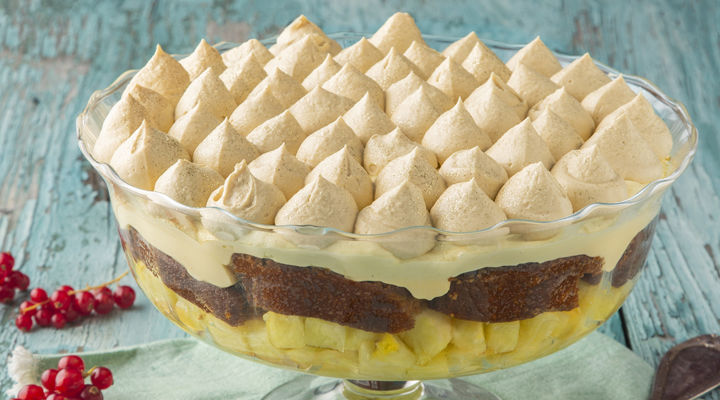 RECIPE OVERVIEW
If serving to adults, drizzle the cake with a little dark rum for extra caribbean flavour.
224

g

Jamaican stem ginger sticky pudding cakes

220

g

Salted Caramel Sauce

1

large

SuperValu Pineapple
Method
1. Peel, core and dice the pineapple into small pieces, then set aside in a colander to drain.

2. Beat the mascarpone in a bowl until smooth, then stir the custard through until well blended.

3. Place the cream and salted caramel sauce in a bowl and whisk until well combined and softly whipped. Cut the ginger cakes into slices that are 2cm thick. 

4. To assemble, place the pineapple pieces in an even layer in the base of a 3 litre trile bowl that's about 25cm across and 8cm deep. Arrange the cake slices on top to cover. Spoon the custard mixture on top, spreading it out smoothly. Either pipe or spread the salted caramel on top. Decorate with edible glitter or lustre dust if liked. This can be served straight away or kept covered in the fridge for 24 hours.
Be the first to add a review.