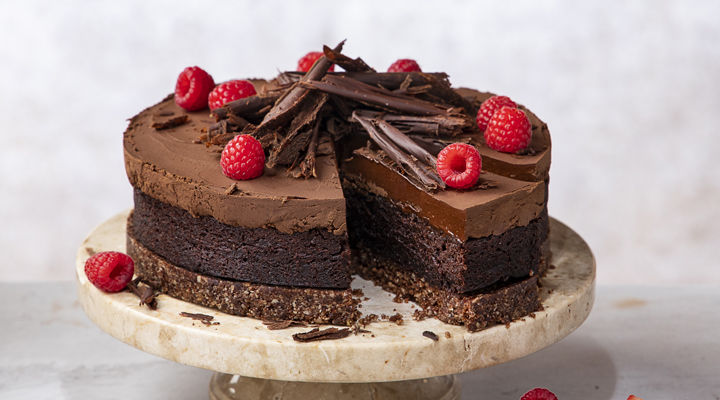 RECIPE OVERVIEW
Three layers; a crunchy base, a moist chocolate sponge layer and a decadent chocolate mousse, all topped with chocolate shavings to take it to the next level.
Method
Crunchy base 
In a food processor blend the walnuts and almonds first into a flour-like consistency. Add the dates, vanilla essence and coconut oil and blend until they start to come together.

 

Line an eight-inch springform tin with baking parchment on the bottom 

and

 on the sides. Transfer the base mixture to the lined tin. 

 

Compact the base layer firmly into the base of the tin, ensuring an even spread so it's an even height. Pop in the fridge to chill.

 
 
Cake 
Mix the ground flax and water thoroughly, set aside for five minutes.

 

In a large bowl mix the flour, coconut sugar, baking powder and cacao powder. In a jug mix together wet ingredients; sunflower oil, non-dairy milk, vanilla essence, soaked flax egg.

 

Mix the wet ingredients into the dry ingredients until combined.

 

Line an eight-inch springform tin with baking parchment on the bottom 

and also

 on the sides. 

 

Pour in mixture and bake for 20 minutes. Rotate halfway through and pierce with a skewer when finished (it should come out clean). Remove and leave to cool.

 
 
Mousse  
Melt the chocolate over a bain-marie. Add the oil and mix well, remove from heat.

 

In a stand mixer (or in a bowl using an electric mixer), whip the aqua 

faba

/chickpea water with vinegar on a high speed. Once you have stiff peaks (about six minutes) slowly add the sugar on a slow speed. Once all the sugar is incorporated, increase the speed back to high and continue to whip for about four minutes more.

 

Slowly add in the melted chocolate as the mixer is running. Stopping the mixer to scrape down the sides of the bowl with a silicone spatula if necessary. Continue to mix for another five minutes until it reaches a wonderful smooth but firm mousse texture.

 
 
To assemble 
Layer the mousse on top of the cooled cake and leave to chill in the fridge to firm up for 10 minutes. 

 

While the mousse is chilling, it's time to make your chocolate shavings; melt 100g of 54% chocolate over a bain-marie, spread it out over an upturned baking tray and allow to cool. Using a metal spatula at an angle, scrape the chocolate into shavings.

 

Remove the crunchy base from the springform ring, leaving it on the base. When chilled, carefully remove the cake and mousse layer from the base and ring, remove the parchment and gently lay the cake on top of the base. Sprinkle with the chocolate shavings. 

 
*Top Tip: Slice the cake using a hot knife to stop the mousse from squashing when slicing.
Be the first to add a review.