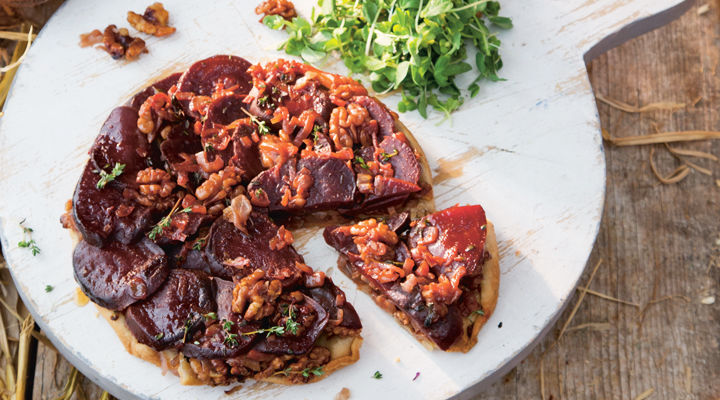 RECIPE OVERVIEW
This tart is lovely as a starter or a main course, depending on whether you make it as one large pie or small tartlets.
640

g

Frozen Shortcrust Pastry

thawed

2

cloves

Garlic

finely chopped

1

handfull

Green Veg

to serve

1

tbsp

Plain Flour

for dusting

250

g

Shallots

finely chopped

5

sprigs

SuperValu Fresh Thyme

leaves stripped

100

g

SuperValu Goodness Walnuts
Method
Take the pastry out of the freezer the night before and transfer it to the fridge to thaw so that it's soft and ready to use.
Preheat the oven to 200°C/gas mark 6. Line an 18cm springform tin with non-stick baking paper if making one large tart or line a muffin tin with cases if making individual tarts.
Heat 1 tablespoon of the oil in a non-stick frying pan set over a medium heat. Add the shallots and garlic and cook for a few minutes, until golden and softened. Add the thyme and cook for 1 minute more. If the shallots and garlic start to stick or brown before becoming soft, add a splash of water. Transfer to a bowl.
Put the remaining tablespoon of oil in the pan with the walnuts, maple syrup and vinegar and cook on a medium heat. Use a wooden spoon to move the walnuts around the pan to prevent them from sticking and burning. The walnuts are ready once the sauce reduces to a syrupy consistency. Tip in the shallots and garlic and cook briefly, stirring to coat them. Take the pan off the heat.
Slice the cooked beetroot into discs about 5mm thick and arrange them in the base of the lined tin. Spoon the shallots, walnuts and syrup on top.
Remove the pastry from the pack and roll it out on a lightly floured surface until it's just larger than the tin. Place the pastry over the veg and tuck it down the insides of the tin. Trim off any excess with scissors and pierce the middle of the pastry with a knife to make a hole for steam to escape.
Bake in the oven for 15 to 20 minutes, until the pastry is golden. Cool for a few minutes in the tin, then release the sides of the springform tin and carefully invert the tart onto a serving plate. Serve with your greens of choice.
Be the first to add a review.