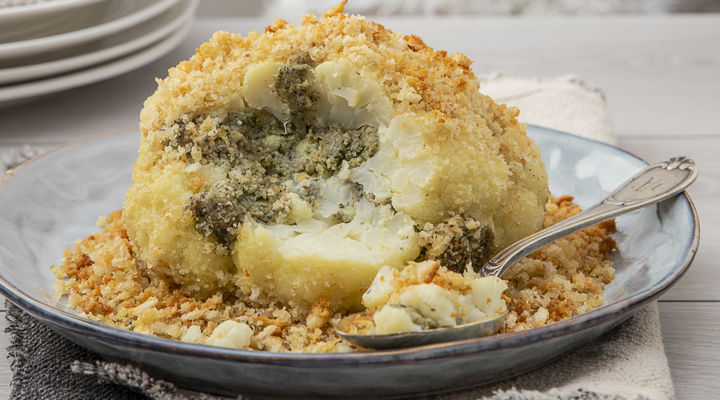 RECIPE OVERVIEW
This dish is ideal to make the day before, then simply put it in the oven to heat up before serving.
2

cloves

Garlic

roughly chopped

1

large

SuperValu Cauliflower

about 800g

5

tbsp

SuperValu Fresh Breadcrumbs

100

g

SuperValu Goodness Cashew Nuts

toasted

100

ml

SuperValu Sunflower Oil

150

g

Vacuum-Packed Cooked Chestnuts
For the kale pesto
50

g

SuperValu Kale

steamed
Method
Preheat the oven to 200°C/gas mark 6.
Remove the leaves from the cauliflower and carefully remove the stalk, making sure the florets and the whole head of cauliflower hold together. Boil the kettle, then fill a large saucepan with about 8cm of the boiled water and a generous pinch of salt. Place the cauliflower in the saucepan, cover and boil for 7 to 8 minutes. Meanwhile, make the pesto. Give the steamed kale a good squeeze to get rid of any excess water, then put all the pesto ingredients in a food processor and blitz until perfectly smooth. This kale pesto is a little thicker than normal pesto so that it won't run out of the cauliflower, but it's important that you reach a smooth texture, otherwise it will be hard to pipe in between the florets. Fill a piping bag with the pesto and use a fine nozzle or else make a very fine cut if using a disposable piping bag.
Remove the cauliflower and set it upside down on a baking tray to cool. Once it's cool enough to handle, pipe the pesto between the florets and the base. Make sure you gently insert the piping bag between the florets all around the cauliflower to ensure the cauliflower is well stuffed. You will need to be careful here to keep the whole cauliflower intact but also that you manage to really stuff all the internal spaces.
Turn the stuffed cauliflower right side up and season with salt and pepper. Using a pastry brush, brush the oil all over the outside of the cauliflower, then sprinkle on the breadcrumbs. Bake in the oven for 35 to 40 minutes, until nice and golden.
Be the first to add a review.