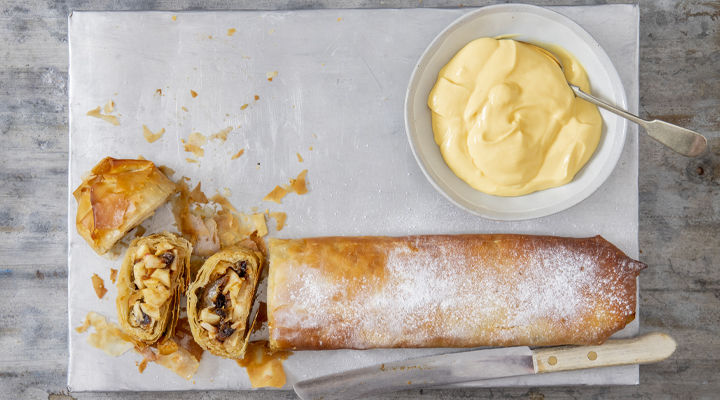 RECIPE OVERVIEW
Reduce food waste this festive season by making the most of your leftovers. Always end up with left over Christmas pudding? This recipe is for you.
1

pack

Filo Pastry

6 to 7 sheets, thawed
For the filling
200

g

Christmas Pudding

leftovers

4

-

SuperValu Granny Smith Apples

or other eating apples
To serve
0

-

SuperValu Icing Sugar

0

-

Whipping Cream

or custard, chilled
Method
Preheat the oven to 200°C/gas mark 6.
Peel, core and quarter the apples, then cut into thin slices. Toss them in a bowl with the lemon zest, sugar and cinnamon, then crumble over the leftover Christmas pudding and mix well.
Add one-third of the melted butter to a small frying pan set over a medium heat, then add the breadcrumbs and fry until they are crisp and golden. Tip onto a plate lined with kitchen paper to cool.
Place a sheet of non-stick baking paper that will fit on a large baking sheet on your work surface. Cover the baking paper with one sheet of filo pastry and brush with the melted butter. Scatter over 2 tablespoons of the toasted breadcrumbs. Place another sheet of pastry on top, brush with butter and sprinkle with 2 tablespoons of toasted crumbs. Repeat until all the pastry is used up. Scatter any remaining breadcrumbs over the top sheet of pastry.
Put the filling on the third of the pastry that is nearest to you, leaving a small edge clear at either end to fold in. Using the baking paper, start rolling up the strudel, tucking in the edges as you go and finishing with the seam underneath. Move it to the centre of the paper and carefully lift the whole thing onto the baking sheet. It might have to sit diagonally to get it to fit. Brush the strudel all over with the remaining melted butter.
Bake in the centre of the oven for 30 to 40 minutes, until the pastry is golden and the apples are cooked. Allow to cool a little, then dust with icing sugar.
Serve warm with chilled custard or whipped cream. This can be made ahead and reheated for 10 to 15 minutes in a medium hot oven to warm it through and crisp up the pastry.
Be the first to add a review.