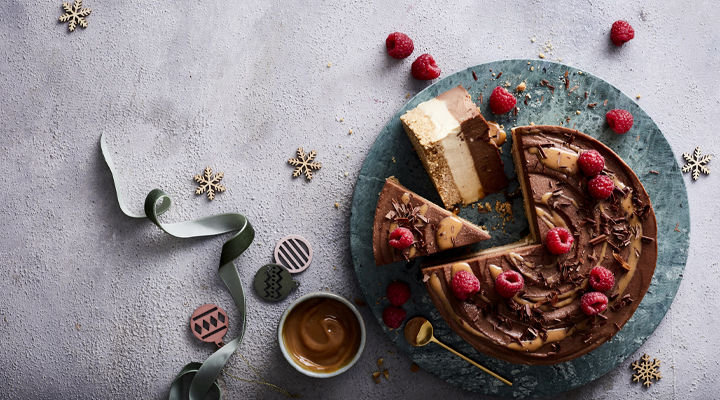 Method
For the filling: Boil the raw cashew nuts for 10 minutes until very soft, drain and rinse well.
Line the base of a 20cm/8 inch springform cake tin.
For the base: Add the biscuits to a food processor and pulse to a fine breadcrumb texture. Melt the
coconut oil over low heat until just melted and add to the bowl, mix together well and add to the lined tin, using a spoon to compact and
flatten so it is smooth. Chill in the fridge for 20 minutes.
For the filling, clean out the food processor. Add the soaked cashews and remaining filling for the first layer (except the vegan cream cheese). Blend until super smooth, 7-10 minutes until it's a
silky texture. Add the vegan cream cheese and blend.
To make the caramel, add the sugar to a clean non-stick medium pot, add the water and allow it to
absorb into the sugar. Heat over a low heat without stirring until the liquid is bubbling for 1 minute.
Remove from the heat and add the vegan butter, whisking until the butter absorbs and you have a lovely caramel. Add 1/3 of the caramel to the cashew filling and blend until fully incorporated. Put the remaining caramel aside to decorate.
Add the first layer of caramel filling to the chilled base, spread the filling out so it is smooth and even. Place in the fridge to set for one hour or until firm to the touch.
Clean out the food processor and repeat the steps above for the cashew filling adding chocolate and coffee instead of the caramel.
Melt the chocolate in a bain-marie, add the ground coffee to the blended filling and blend until smooth.
Spread the second mocha filling carefully out over the first chilled layer and place back in the fridge to chill for two hours or overnight.
To decorate, drizzle with the remaining caramel and with grated dark chocolate.
Be the first to add a review.