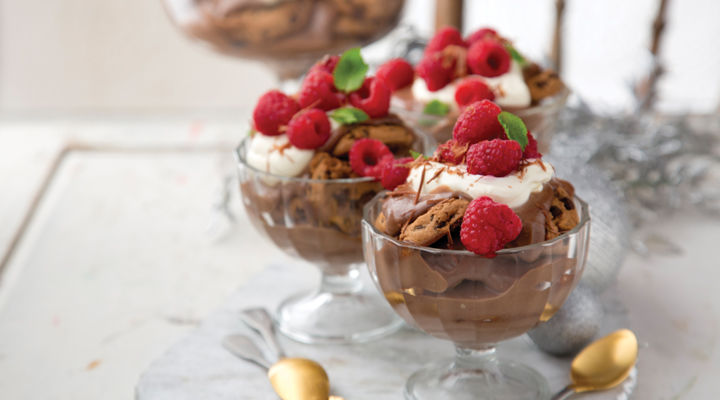 RECIPE OVERVIEW
As this cake sits in the fridge, the cookies soften to a delicious cakey texture. Giving the kids the components to layer up themselves will keep them busy and having fun for some time! This trifle recipe is based on using packets of SuperValu chocolate chip cookies, which have 12 in each. In case you use a different cookie, you will need 48 cookies in total, each about 5cm diameter.
100

g

Dark Chocolate

(70% cocoa solids)

4

tbsp

Irish Cream Liqueuer

(optional)

4

packets

SuperValu Chocolate Chip Cookies

250

g

SuperValu Raspberries

quartered figs, redcurrants or cherries

500

ml

SuperValu Vanilla Custard

vanilla
Method
1. Pour the custard into a pan and break all but one square of the chocolate in. Place over a gentle heat and stir until the chocolate melts. Remove from the heat and leave to cool completely.
2. Place the mascarpone in a really large bowl with the vanilla seeds and beat briefly to soften a little. Pour in the cream and whisk until soft peaks form. This is easiest with an electric mixer or whisk. Fold through the Irish cream liqueur, if using.
3. Spread one-sixth (about 100g) of the cooled custard onto the base of a 20cm-wide trifle bowl that's at least 14cm deep. Arrange eight of the cookies in an even layer on top. Spread one-sixth (about 160g) of the mascarpone mixture on top in an even layer. Repeat until you have six layers of cookies, finishing with a layer of the creamy mascarpone mixture. Chill in the fridge for at least 8 hours or overnight. This can be prepared up to 24 hours in advance.
4. When ready to serve, finely grate the remaining chocolate over the top. Arrange the fresh fruit in a pile in the centre and go wow your guests!