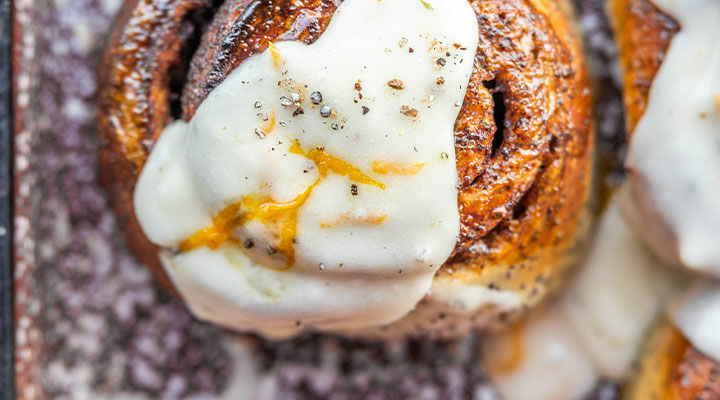 RECIPE OVERVIEW
By Sarah-Kim Watchorn
"This recipe is great when you need to interchange items depending on what is in your press. The poppy seeds aren't essential, but they are delicious and add something a little different, you could also add some finely chopped pecans or hazelnuts sprinkled on top at the end for a final flourish. I've added some cardamom to the glaze because it's my favourite spice and works so well with sweet and savoury food."
Method
Method:
Put the oil, warm milk and yeast in the bowl of a freestanding mixer, topple in the flour, poppy seeds, sugar, salt and the eggs. Knead for 5 to 6 minutes until spongy and smooth.
Leave in a greased bowl, covered with cling film and place in the fridge overnight. It will be then have puffed up and doubled in size.
Topple out onto the counter top and roll to a rectangle that's about 16" x 10". It shouldn't be rolled super thin. In a separate small bowl, mix the filling ingredients together. Spread the buttering filling all across the top using an offset spatula. Rolling from the short end, yes short end. Tightly roll the first little bit and then roll away from you.
Cut in half, then each half in four to give you eight rolls in total. You should see the lovely spiral pattern. Also, having chilled dough really helps this. It means you will ll get a much cleaner cut. Use a sharp knife here also.
Place into a greased baking dish. Cover and leave for at least an hour, maybe 2 until doubled in size. The time here will depend on room temperature. If they're touching and all cosy, great. Now, heat your oven to 180c. Remove the cling film and brush them with the egg. Place on the middle shelf of the oven for 20 to 25 minutes until gorgeous and golden in colour.
For the glaze, bash the cardamom pods in a pestle and mortar, remove the shells and bash the seeds a little more, add this to a small bowl with the rest of the glaze ingredients and mix. Drizzle over the cooled (or warm if that's what you fancy) buns.
Be the first to add a review.