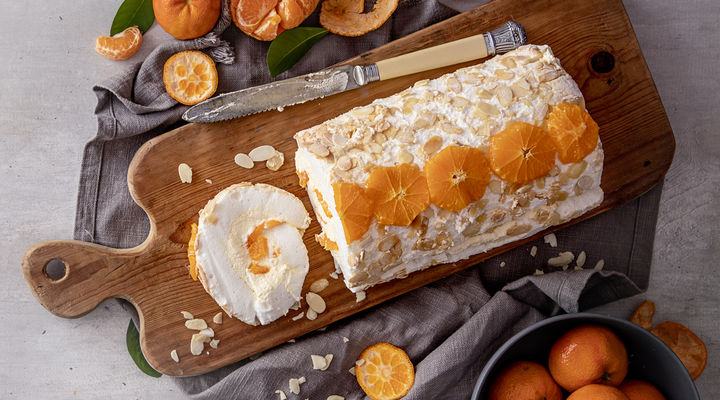 RECIPE OVERVIEW
ClemGold are exclusive to SuperValu and best in season in
late July.
6

-

ClemenGold Clementines

4

-

Eggs

large eggs, whites only

1

tsp

SuperValu Cornflour

1

tsp

SuperValu White Wine Vinegar

or apple cider vinegar
Method
1. Preheat the oven to 160°C/gas mark 3. Line a 23cm x 33cm
Swiss roll tin with non-stick baking paper.
2. In a small bowl combine the cornflour, vanilla and vinegar. Set aside.
3. In a large spotlessly clean, dry bowl, whisk the egg whites until stiff. Gradually add the caster sugar, whisking well after each addition, making sure the sugar has all dissolved and the meringue is glossy. Fold in the cornflour mixture.
4. Transfer the meringue to the lined tray and spread to the edges of the tray. Scatter over the flaked almonds and bake in the oven for 25 minutes, until firm.
5. With a sharp knife, cut the top and bottom from the mandarins. Following the shape of the fruit, cut the peel away, then cut into slices.
6. Whip the cream until firm.
7.  Invert the cooled meringue onto a fresh sheet of baking paper, then carefully peel back the paper from the base of the meringue. Spread the base with the whipped cream to the edges and place the mandarin slices on top, reserving five or six slices for decoration. Turn the short edge of the meringue in and, by lifting the paper, gently but firmly roll up the roulade and transfer to a serving plate.
8. Refrigerate for 1 hour to firm up. Decorate with the reserved mandarin slices just before serving.
Be the first to add a review.