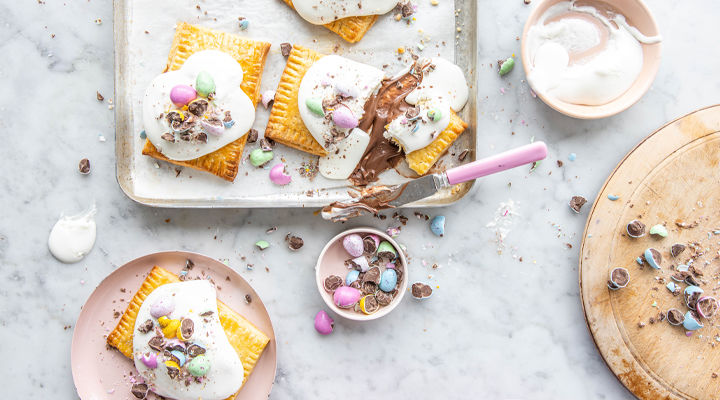 For The Pop Tarts
150

g

Butter

diced & chilled

2

medium

Free Range Eggs

beaten

25

g

Light Brown Caster Sugar
To Finish
200

g

Chocolate and Hazelnut Spread

100

g

Mini Chocolate Eggs
Method
Heat your oven to 180oC. Brush with more egg and bake for 15 minutes until golden.
To make the pop tarts rub the butter into the flour and sugars, mix through one egg and 2 tablespoons of water. Don't forget the salt, it enhances the flavour of the other ingredients and remember; you'll get a better crust if you do this by hand. Roll out on a lightly floured surface to at least 18" x 9", roll it a bit further than this to give room to cut nice straight edges. Cut in half lengthways, then cut each long rectangle into 6 to give you 12, 4.5" x 3" pieces.
Brush 6 pieces with the remaining egg. Spoon 2 tablespoons of the chocolate spread into the centre and top with the other 6 pieces. Use a fork to press the edge of each tart together and prick on the top. Arrange them on a large baking tray lined with parchment paper and brush with the remaining egg. Chill for 30 minutes.
When they're cool, place the marshmallows with 3 tablespoons of water and the sugar in a heatproof bowl over a saucepan of simmering water, whisk for a minute until the mixture is smooth.
Spread over the tarts to almost fully cover the surface and sprinkle over the mini eggs and the melted milk chocolate.
Be the first to add a review.