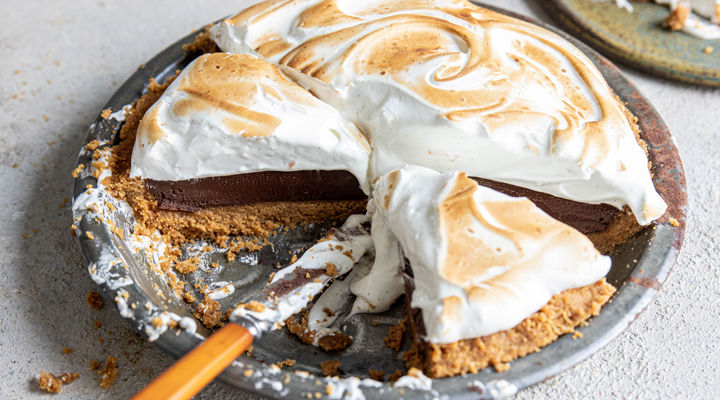 Method
Blitz the biscuits in a food processor until fine, add the butter and pulse to combine. 
Tip into a greased 18cm pie tin. Using the back of the spoon, smooth the base and press the biscuit up the sides (a smooth surface is a non-negotiable here). 
For the chocolate centre, put the ingredients in a large saucepan over low heat. Slowly whisk until melted, whisking gently for 1-2 minutes until thickened. Pour into the base, don't forget to smooth that surface! Set in the fridge for at least 3 hours. 
For the topping, add half the caster sugar with 100ml water to a medium-sized saucepan. Stir to combine and allow to boil without stirring. Whisk the egg whites in a freestanding mixer, once they've reached soft peaks, slowly whisk in the other half of the sugar along with the cream of tartar, orange and vanilla. 
Simmer the sugar mixture for 1-2 minutes until it begins to thicken, then slowly whisk this into the eggs. They should be light, fluffy and glossy. Spoon on top of the pie mix and using a blow torch, toast the meringue until golden.
Slice and serve or take the whole pie, solo, to the sofa. 
Be the first to add a review.