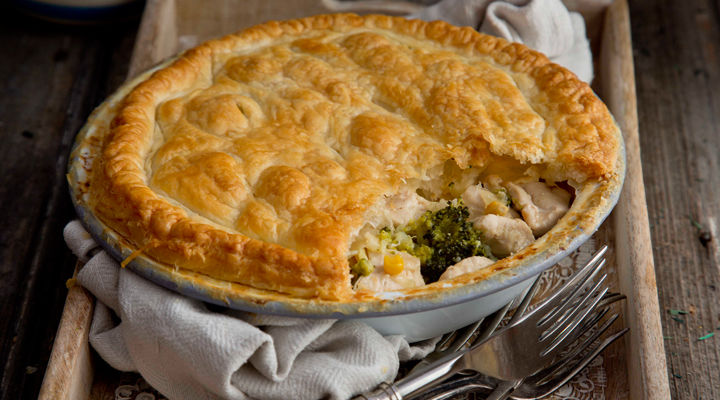 RECIPE OVERVIEW
This is the perfect meal for the whole family. Before adding the pastry on top of the pie, you could cool the filling and then freeze it to use another day. 
Ingredients
1

pinch

Black Pepper




200

g

Broccoli


florets

2

-

Chicken Breast


boneless, skinless and cut into bite-sized pieces

100

ml

Chicken Stock Cube




1

tsp

Dried Basil Leaves




10

g

Low Fat Butter




3

tsp

Low Fat Milk




1

tsp

Olive Oil




1

small

Onion


diced

10

g

Plain Flour




1

sheet

Puff Pastry


thawed if frozen

1

pinch

Salt




30

g

SuperValu Sweetcorn 326g



Method
Preheat the oven to 200oC/gas mark 6.
Warm the butter and oil in a large pan set over a medium-high heat. Add the diced chicken, onion and basil and cook for a few minutes, until the chicken is sealed. Season with salt and pepper, then add the sweetcorn and flour and cook for a few minutes more. Reduce the heat to medium, then add the stock and cook for about 10 minutes.
Fill a separate pot with water and bring to the boil. Add the broccoli florets and cook for 3 minutes, then remove from the pan with a slotted spoon. Add to the chicken mixture and cook for another 2 minutes. The sauce should be thick, but add 2 teaspoons of the milk to give it a creamy appearance and to thin it out a bit. Put into an ovenproof pie dish and set aside.
Roll out the puff pastry on a lightly floured surface and measure it to make sure it's big enough to cover your baking dish, plus a little extra to go over the edge. Place over the dish and roll over the edges with a rolling pin, making sure all the filling is sealed in. Prick the pastry all over with a fork and brush with the remaining teaspoon of milk. Bake in the oven for 20 to 25 minutes, until golden brown.
Be the first to add a review.