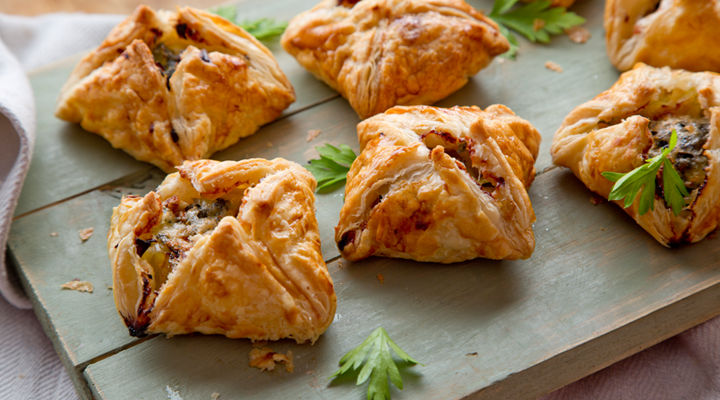 RECIPE OVERVIEW
These parcels are an inexpensive and delicious party bite with rich flavours that pack a punch, perfect for this time of year and a winner with guests. The leek gives the parcels a bit of texture, but you can leave it out if you prefer.
350

g

Black Pudding

cut into 1.5 cm-thick slices

1

-

Fresh Egg

lightly beaten

150

g

Leek

finely sliced (optional)

2

sheets

Puff Pastry

thawed

1

-

Supervalu Bramley Apples

peeled and cut into 1cm cubes
Method
*This recipe serves 8-10.
1. Preheat the oven to 220°C/gas mark 7. Line a baking tray with non-stick baking paper.
2. To make the leek and apple mix,place a deep-sided pan on a medium heat and add the olive oil. Add the sliced leeks, if using, increase the heat and fry for 3 to 4 minutes. Add the cubed apple, decrease the heat to low and cook for 3 to 4 minutes. Stir in the sugar, cover the pan with a lid and cook for a further 10 minutes, until the apple and leek mixture is very soft. Set the mixture aside or allow to cool before placing in the fridge if you intend to prepare the parcels ahead of time.
3. Cut the puff pastry sheets into 10cm squares – they need to be big enough to enclose the filling. Place a slice of black pudding in the centre of each square and top with a little leek and apple mix and 1 teaspoon of Gorgonzola.
4. Brush the edges of the pastry with the beaten egg and close up the pastry around the filling, pressing tightly to seal into a parcel. Lightly brush the top of the pastry with beaten egg and place on the lined baking tray.
5. Bake in the oven for about 20 minutes, until the top of the pastry is golden brown and the black pudding is fully cooked. Allow the parcels to stand for a few minutes before serving.
Be the first to add a review.