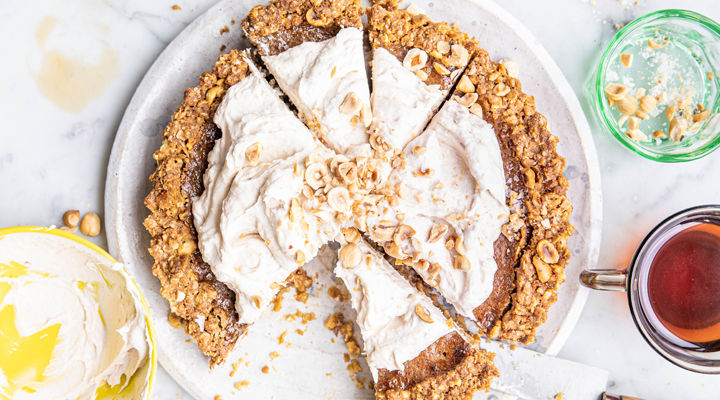 RECIPE OVERVIEW
By Sarah-Kim Watchorn
"There's a rumour in baking that unsalted butter is better. I disagree. I don't like the taste of it. I have and will always use salted butter. I think it tastes better so it will give your bake a better flavour too"
Method
Heat oven to 160oC.
Pop your 20cm fluted tart tin onto a tray.
For the base, crush the biscuits and hazelnuts until almost fine, leave a little texture.
Stir in a large bowl with the oats, butter, brown sugar and salt. Once mixed, press into the tin and up the sides.
For the centre, pop it in the oven to bake for 15 minutes until golden and cool for 10 minutes.
Whisk the flour, buttermilk, eggs and sugar together until smooth.
Pour into the tart tin and tap out any air bubbles. Bake for 15 minutes until cooked but still slightly wobbly.
Leave to cool completely. For the banana cream, blend the bananas in a mini blender until smooth.
Whisk the mascarpone briefly to soften, add the cream and icing sugar and continue to whisk until soft peaks form, then fold through the banana.
Top the cooled tart with this super fluffy whipped mix.
The fun doesn't stop there, don't forget the hazelnuts and sea salt.
Be the first to add a review.