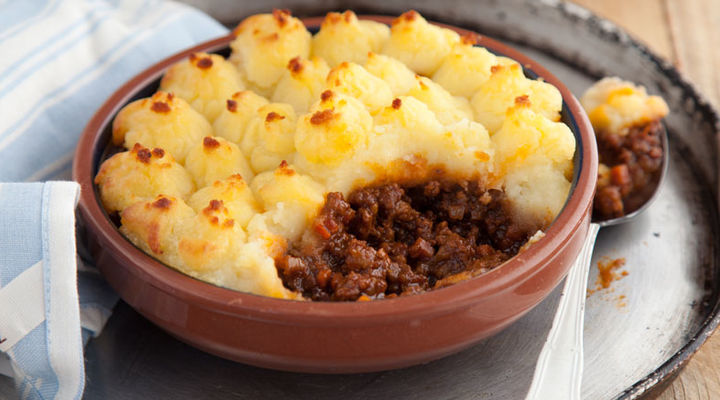 1

small

SuperValu Carrot

minced

2

sprigs

SuperValu Fresh Parsley Flat Leaf

chopped

2

sprigs

SuperValu Fresh Rosemary

chopped

2

sprigs

SuperValu Fresh Thyme

chopped

2

cloves

SuperValu Garlic

crushed

75

g

SuperValu Irish Creamery Butter

1

-

SuperValu Leek

minced

1

small

SuperValu Onion

minced

450

g

SuperValu Potatoes

washed and peeled

500

g

SuperValu Quality Irish Lamb Mince

1

tsp

SuperValu Tomato Purée
Method
Heat the oil and saute the lamb in a pot over high heat. Add in the onions, leeks and carrots, garlic. Season with salt and pepper and cook stirring for about 5 minutes.
Add in the tomato paste and stir well to make sure it is well combined.
Add in the red wine and beef stock, the parsley, thyme and rosemary stir and cook for 2 more minutes. Stir well and cook for 10 - 15 minutes. Adjust seasoning with salt and pepper if needed.
In the meantime, cover the potatoes with water and bring to a boil. Simmer for 15 - 25 minutes until cooked yet firm then drain.
Place the potatoes through a ricer to puree then add the cream and butter and season with salt.
Using ring molds, place a fair amount of the minced meat in the middle of the plate and top with fresh mashed potatoes, remove the ring and garnish with fresh thyme leaves.
Be the first to add a review.