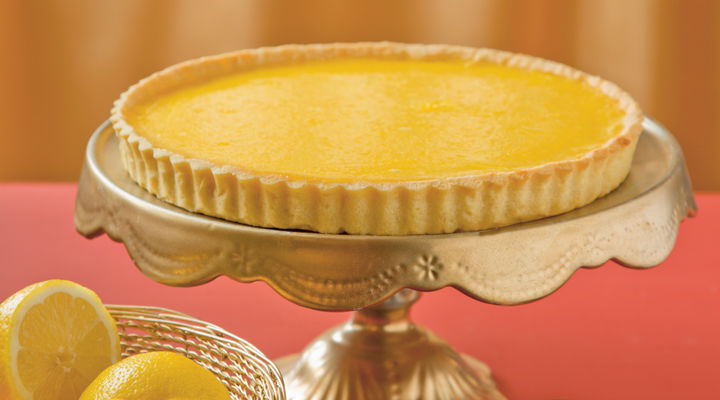 RECIPE OVERVIEW
Egg whites freeze beautifully for future use. Just remember to write the quantity of whites on the freezer bag along with the date of freezing.
For The Pastry:
50

g

SuperValu Icing Sugar
Method
Sift the flour and icing sugar into a bowl and add the cold butter. Rub the butter into the flour until the mixture resembles fine breadcrumbs. Mix the egg yolk with 2 to 3 tablespoons of cold water, then add to the flour and mix together to bring the pastry together to form a ball. Flatten into a disc, cover with cling film and refrigerate for 20 minutes.
Preheat the oven to 160°C fan/gas mark 3.
Line a 23cm flan tin with the pastry and bake blind according to the instructions in the Kitchen School panel on page 43.
Put the eggs, egg yolks and sugar in a large jug and whisk together. Add the finely grated lemon zest and juice and whisk again. Finally, add the cream and whisk well to combine.
To avoid a wobbly journey to the oven, put the pastry case on a baking sheet and only half fill it with the mixture. Pull out the centre shelf of the oven a little and put the half-filled tart on it. Gradually and carefully pour in the rest of the liquid up to the top of the pastry shell, then push into the oven very gently, being careful not to spill the filling.
Bake for 30 to 35 minutes, until just set and the centre still has a little wobble.
Be the first to add a review.