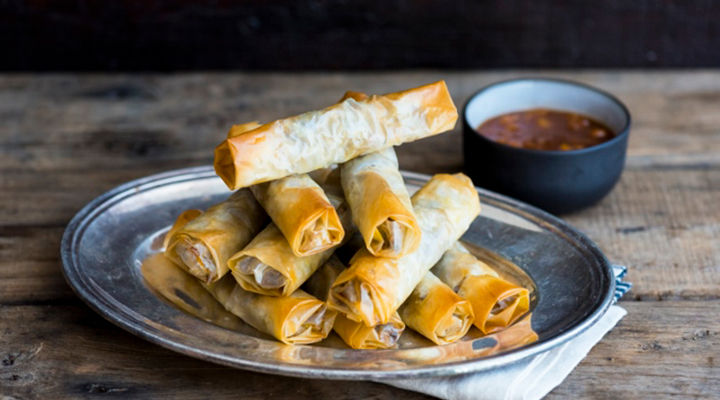 RECIPE OVERVIEW
The combination of flavours between the duck and the sweetness of the ClemenGold makes this dish simply irresistible.  
1

tsp

Chilli Sauce

or more, to taste

4

-

Duck Leg Portions

roasted and shredded

1

tsp

SuperValu Fresh Ginger

grated

2

tbsp

SuperValu Oil

for frying

1

zest

SuperValu Signature Tastes Clemengold
Dipping Sauce
1

-

SuperValu Signature Tastes Clemengold

peeled and roughly chopped
Method
Preheat the oven to 180°C.
Fry the onion, garlic and ginger until soft.
Mix in the shredded meat and zest, season to taste and set aside.
Roll out a sheet of phyllo pastry on a work surface and cut in length halfways, and each half again, to make four rectangles.
Cover the other two phyllo sheets with a tea towel so they will not dry out before use.
Brush the phyllo sheet with melted butter.
Spread the meat filling close to one edge of each pastry rectangle; fold the pastry over to enclose the edges of the filling and roll the pastry into cigars.
Butter the seam; seal and place seam-side down on a baking tray lined with baking paper.
Repeat with the rest of the phyllo sheets until you have 12 cigars.
Bake in an oven preheated to 180˚C for 15-20 minutes until golden and crisp.
In a small bowl, mix all the ingredients of the dipping sauce and serve.
Be the first to add a review.