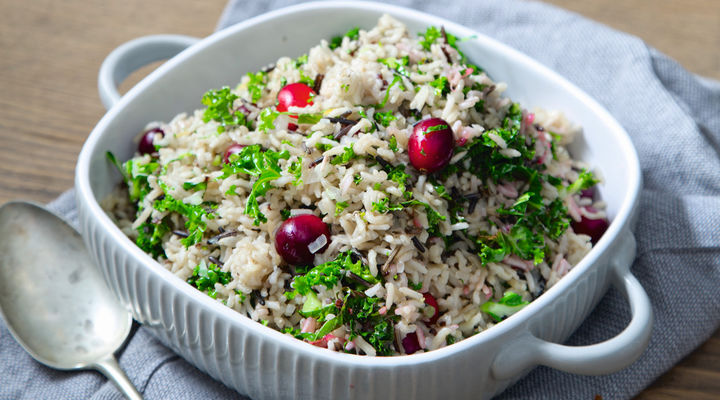 RECIPE OVERVIEW
This is a great twist on traditional stuffing and is a
perfect side for any gluten-intolerant guests at your table. Add some cranberries for a sweet note.
100

g

Brown Rice

and wild rice.

2

tbsp

SuperValu Fresh Sage

chopped

50

g

SuperValu Kale

leaves

50

g

SuperValu Signature Tastes Luxury Fruit Mix
Method
1. Cook the rice and quinoa in separate saucepans as per the packet instructions. However, when the quinoa is tender but still has a little crunch to it, drain the quinoa and return it to the pan. Cover and let it steam for 5 minutes, then fluff it up
with a fork. Allow to cool to room temperature.
2. Heat the olive oil in a large sauté pan over a medium heat. Add the onion and garlic and sauté for about minutes, stirring occasionally. Add the kale, lemon zest, sage and thyme and sauté for another 2 minutes.
3. Lastly, add the cranberries and the fruit mix and stir to combine. Mix in the cooked rice and quinoa, then check the seasoning. Place the stuffing into the turkey cavity. Alternatively, put the stuffing in a greased baking tray and cook in the oven alongside the turkey for 15 minutes.


Be the first to add a review.