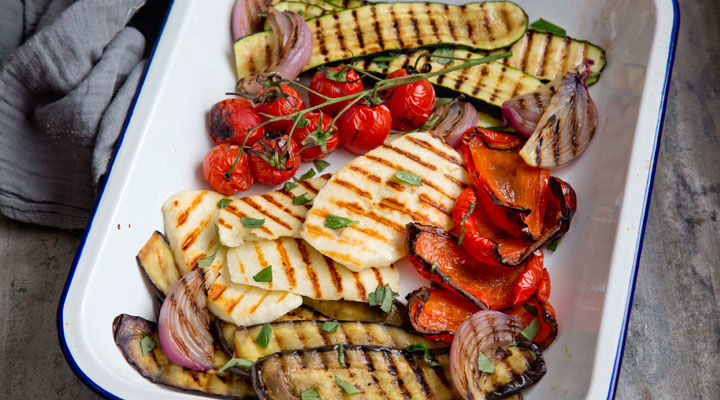 RECIPE OVERVIEW
We've both been vegetarians since 2002, but we've only discovered the fun of barbecuing vegetables in the last few years. Most vegetables cook wonderfully on a barbecue – it brings out their sweetness and the heat gives them a lovely charred edge.
1

handfull

SuperValu Asparagus

1

-

SuperValu Aubergine

sliced lengthways, 5mm thick

1

-

SuperValu Courgette

sliced lengthways

1

handfull

SuperValu Mangetout

2

-

SuperValu Mixed Peppers

1

handfull

SuperValu Sugar Snap Peas

1

-

SuperValu Vine Cherry Tomatoes
Method
Aubergines:

One of our all-time favourite veg on the barbecue. Slice them lengthwise into strips about 5mm thick. Brush with a little oil and sprinkle with salt, then grill until soft. They normally take about 5 minutes to cook, but make sure you cook both sides to get those nice grill marks.

Courgettes:

These can be a little watery, bland and uninteresting, but they really come into their own on a barbecue. The heat seems to release their potential and you get a crispy, charred exterior and a warm, juicy centre. Cut lengthwise into strips and cook for about 5 minutes, until soft. They add an extra dimension to a veggie burger or you can roll them up tightly to make fancy canapés.

Peppers:

Sweet bell peppers (red or yellow) often get a bad rap, but like courgettes, they are at their best when charred and barbecued. Just cut off the bottom and cut the pepper into quarters. Brush each piece with a little oil, sprinkle with salt and cook on the grill until they start to char and blister. This will normally take 6 to 7 minutes, provided the barbecue is hot. Alternatively, if you are using charcoal, whole peppers cook wonderfully right inside the coals, where the skin blisters and chars beautifully while the insides remain juicy, sweet and soft. Just put them whole into the charcoal until the skin starts to blister, then brush off the charcoal, rinse and get stuck in!

Sweetcorn:

Parboil the ears for 5 minutes first to speed up the cooking time, then cook on the barbecue until they start to brown slightly and the kernels become large, plump and juicy.

Asparagus, French beans, sugar snaps, mangetout and flat beans:

These aren't obvious barbecue vegetables, but they all work brilliantly – crispy on the outside and soft, sweet and juicy inside. Just toss with a little oil and salt and cook until they start to char and get nice grill marks.

Cherry tomatoes on the vine:

Our dad loves to put a whole vine on the barbecue and leave it until the tomatoes start to pop. They make any plate they are on look prettier and they become sweet and juicy. Nice one, Dad!

Potatoes:

Parboil waxy potatoes for 10 minutes, then drain and cut into slices about 2cm thick. Brush with a little oil, sprinkle with salt and cook on each side until they start to crisp and brown. Barbecued potatoes are like chips with an extra charred dimension!
Be the first to add a review.