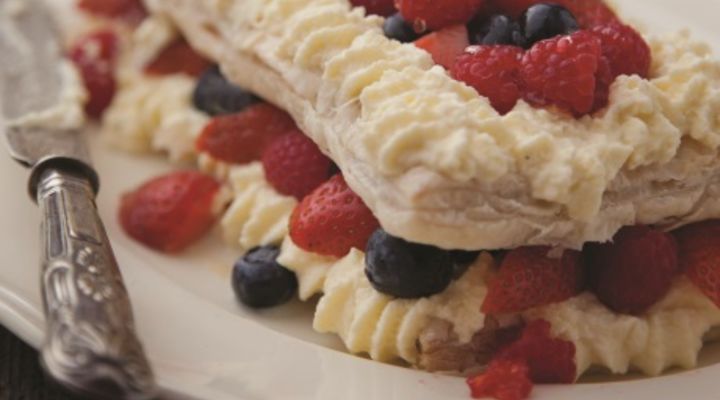 RECIPE OVERVIEW
You can use frozen berries for this summer treat as well as frozen puff pastry. Once constructed the berries will have defrosted by the time the main course is finished.
1

sheet

Puff Pastry

halved

300

ml

SuperValu Cream

whipped

200

g

SuperValu Icing Sugar

100

g

SuperValu Strawberries
Method
Preheat oven to 200°C/400°F/Gas Mark 6. Remove your berries from the freezer and spread out evenly on a large tray to defrost while you prepare the pastry.
Line an oven tray with baking paper. Place the pastry halves onto the tray and place in a preheated oven for 10 to 15 minutes, until puffed and golden.
Dust with 100g icing sugar and place under a moderate grill for a minute or two to caramelize the pastry. Be careful not to burn the pastry. Transfer the pastry to a wire rack and allow to cool completely.
 Meanwhile, whip the cream and add the vanilla extract and 50g of icing sugar. Transfer the cream to a piping bag.
Place one rectangle of pastry onto a serving plate. Pipe a layer of the cream mixture onto the pastry.
Place the berries on top reserving the best looking ones for the top. Be careful to reserve any juice which has been released from the berries and don't pour on the pastry as it will make it soggy.
Next place the second pastry layer on top of the cream and berries, and decorate with the remaining cream and berries. If you wish any remaining berry juice can be reduced a little with tablespoon of sugar and then drizzled on the top.
Be the first to add a review.