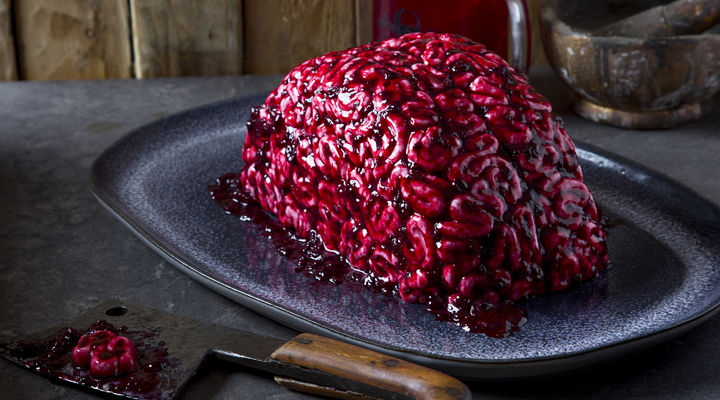 RECIPE OVERVIEW
This cake will be a real centre-piece with wow factor on any Halloween party table. A quick and simple homemade blackberry jam (which can be made on its own as a spread throughout the season), is what sets the brain cake off in all its goryness! Cutting into the cake will reveal the blood coloured and delicious red velvet cake. It's really important to use a gel food colour here, as a liquid one will throw the consistency of the cake mixture off a little. If you must use a liquid colour then ensure it is not a 'natural' one or the vibrancy of colour will be compromised.
Ingredients
0.5

tsp

Bicarbonate of Soda




150

g

Caster Sugar




2

tbsp

Cocoa Powder




1.5

tsp

Distilled White Vinegar




1

-

Egg




150

g

Plain Flour




1

tsp

Red Gel Food Colouring




1

pinch

Sea Salt




125

ml

SuperValu Buttermilk




50

g

SuperValu Unsalted Butter


softened

1

tsp

Vanilla Extract



For decoration:
500

g

Fondant


icing in pale pink
For the blackberry jam:
2

tbsp

Caster Sugar




250

g

SuperValu Blackberries


fresh
For the buttercream:
100

g

Cream Cheese




200

g

SuperValu Icing Sugar




175

g

SuperValu Unsalted Butter



Method
1. Preheat the oven to 180C (fan 160C), 350F, Gas Mark 4.  Grease an 8-inch, loose-bottomed sandwich tin and line the base with baking paper. Set aside on a baking tray.
2. Place the sugar and butter in a large bowl and with an electric mixer, beat for a few minutes until pale and fluffy, scraping down the sides occasionally. Beat the egg in.
3. Beat in the red food colour and vanilla extract until well blended. Then beat in the buttermilk and vinegar. Finally, add the flour, cocoa powder, bicarbonate of soda and salt and beat on high for a minute or so until the mixture is completely smooth and blended. Spoon into the prepared tin and spread the top smooth. Bake for 25 minutes.
4. Meanwhile, prepare the buttercream. Beat the butter and cream cheese in a large bowl until smooth and blended. Mix in half of the icing sugar, before adding the remaining half and beating until smooth and well blended. Cover and refrigerate for at least 1 hour or until firm.
5. To make the jam, place the blackberries and sugar in a small pan and crush them with a fork. Simmer gently for 5-6 minutes until reduced and thickened. Remove and leave to cool completely.
6. Once cooked, remove the cake from the oven, transfer to a wire rack and leave to cool completely. To assemble, cut the cake in half across the centre (so into two half circles) and turn them flat side up. Beat the icing a little to loosen if necessary and spread 75g of it on each cake half. Spread 50g of the blackberry jam on one half and sandwich the cake halves together to enclose the filling. Now stand the cake cut side down on a serving platter and spread the remaining icing all over to cover.
7. Here's where you get to have realy fun, shaping the fondant icing into brain like pieces. Taking small pieces, roll each one into 2-3 inch length thin sausage shapes. Then twist them into wiggle shapes and arrange side by side on the cake to stick to the icing. Leaving a small gap to create a line down the length of the centre will further enhance the brain like shape. Allow plenty of time for this part, but getting all hands on deck will make for a speedier job, aswell as fun creative play activity.
8. Once completely covered in fondant, brush the remaining jam all over. This is when the 'eughs' and 'ahhs' will really start, especially once the small blackberry pieces resembling blood clots settle into the grooves! Now who dares to eat it first?!
TIPS
It's important to keep any fondant icing not in use, well wrapped up to help prevent it from drying out.
 Use store bought blackberry jam instead of homemade if preferred.
Be the first to add a review.