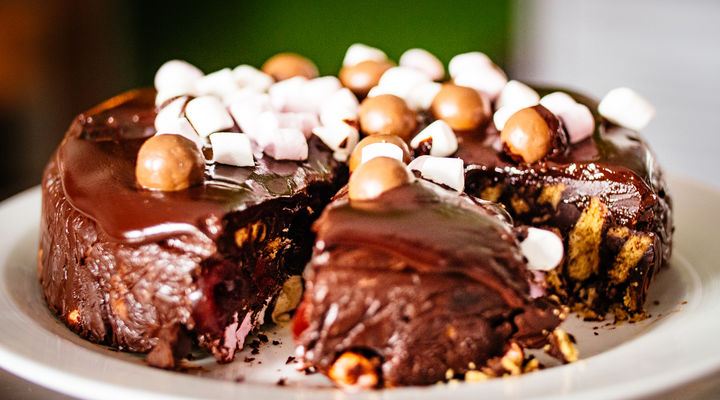 RECIPE OVERVIEW
Of all the biscuit cakes I ever made this one is by far and away the favourite and it is 'suitable' for adults and children alike!
225

g

Digestive Biscuits

(Rich Tea/Digestive/Chocolate)

110

g

Glace Cherries

optional

325

g

SuperValu Signature Tastes Dark Chocolate

broken into chunks

110

g

SuperValu Signature Tastes Milk Chocolate
Method
Line an eight inch/23cm square cake tin with a double layer of cling film or parchment paper.
Place the butter, chocolate and golden syrup into a large bowl and place over a saucepan of simmering water.
When the chocolate mixture has thoroughly melted, add in the biscuits, malteasers, cherries and mix well.
Pour the chocolate and biscuit mixture into the lined cake tin and stick the mini marshmallows into the top in a haphazard fashion.
Transfer to the fridge and allow to set.
When set prepare the ganache.
In a saucepan, bring cream to the boil. Remove from the heat and add the leftover 100g dark chocolate. Stir until smooth and pour over biscuit cake.
Decorate with more marshmallows and let set for two hours more if you can.     
Cut into small portions and enjoy within a week!