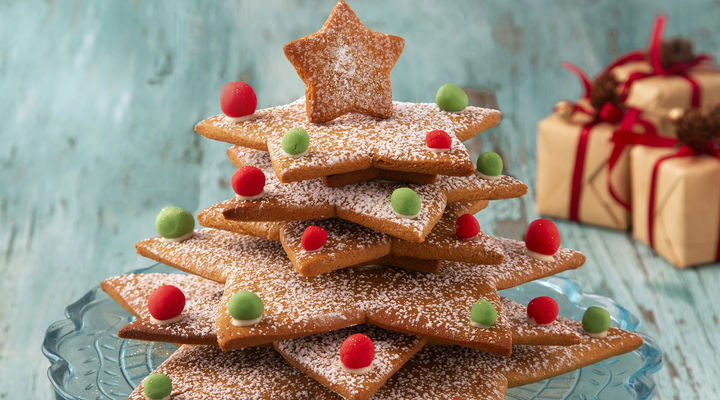 RECIPE OVERVIEW
Decorate the tree in whatever colour fondant you like to suit your needs. You could even use edible gold balls instead of the fondant balls or decorate with gold or silver lustre dust or edible
glitter for a final flourish if liked.
2

tbsp

Bicarbonate of Soda

100

g

SuperValu Brown Sugar

soft brown sugar

50

g

SuperValu Unsalted Butter

2

tbsp

Water

if necessary
To Decorate:
1

knob

Fondant

Red ready-to-roll fondant icing

1

knob

Fondant

Green ready-to-roll fondant icing

1

portion

SuperValu Icing Sugar

for dusting

25

g

White Chocolate

chopped
Method
1. Line two large baking sheets with non-stick baking paper and set aside.
2. Heat the sugar, golden syrup and butter in a small pan on the hob or in a bowl in the microwave until dissolved to a thick and syrupy consistency. Leave to cool slightly.
3. Sift the flour, bicarb, ginger, cinnamon and salt into a large bowl and toss together. Pour in the sugar mixture and mix well to form a dough. Add 1 to 2 tablespoons of water to help bind together
if necessary. Place the dough in between two large sheets of baking paper and roll out to about 1cm
thickness. Slide onto a large baking tray and chill in the fridge for about 30 minutes, until firm. Preheat the oven to 190°C/gas mark 5. Once firm, place the largest star template on the dough and use a sharp knife to cut out your first star. Repeat with the remaining templates, re-rolling the mixture as necessary and returning the mixture to the fridge if it's becoming too soft.
Arrange them spaced apart on the baking sheets as you go. You will need five stars in total measuring 19cm, 15cm, 10cm, 6cm and 4cm.
4. Bake in the oven for 8 to 10 minutes, until golden, then leave to cool completely.
5. Meanwhile, prepare the decorations. Shape the fondant icings into small balls. Melt the white chocolate in the microwave in 30 second blasts or in a heatproof bowl set over a pan of simmering water.
6. To assemble, lightly dust the cookies with icing sugar. Place a dot of melted chocolate in the centre of a serving plate, board or cake stand.
7. Sit the largest biscuit on top to stick. Then, starting with the largest star, stick each cookie on top of the next with a little melted chocolate.
8. Arrange the smallest star standing upright against a fondant ball on top, again securing with melted chocolate. Finally, stick the fondant balls with melted chocolate all around the star edges to decorate.
9. The biscuits will keep for a few days in an airtight container, but this is best assembled on the day of serving.

YOU WILL NEED
Star templates, which you can download online and print at www.SuperValu.ie, or star cookie cutters measuring 19cm, 15cm, 10cm, 6cm and 4cm.
Be the first to add a review.