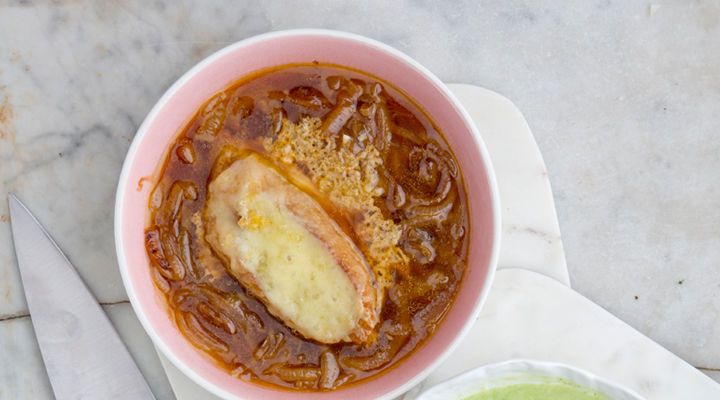 RECIPE OVERVIEW
This soup is a winter warmer that will fill you up.
500

g

Onion

, thinly sliced

1

tbsp

SuperValu Olive Oil
The Croûte
150

g

Gruyere Cheese

grated

4

tbsp

SuperValu Extra Virgin Olive Oil
Method
Preheat the oven to 180°C/gas mark 4.

First make the croûte. Cut 4 x 2.5cm-thick slices of
baguette. Place on a baking tray and drizzle with the extra virgin olive oil. Bake in the oven for 8 minutes, until crispy and crunchy. Leave to cool. Use the rest of the baguette to serve with the soup.

Put the butter and olive oil in a large saucepan set over a medium heat and melt together. Add the onions, garlic and sugar and cook for 5 minutes, stirring occasionally. Reduce the heat to its lowest setting and leave the onions to carry on cooking very slowly for about 30 minutes, until the onions are soft and golden.

Pour in the stock and wine and stir with a wooden spoon,
scraping the base of the pan well. Bring to a simmer and
cook, covered, for 1 hour. Add the Cognac and season with salt and pepper to taste.

When the soup is almost done, preheat the grill to
medium-high.

Ladle the hot soup into four ovenproof bowls and top with
the baguette croûtes. Sprinkle the grated Gruyère over the bread and place the bowls under the grill until the cheese is melted and bubbling. Serve straight away.
Be the first to add a review.