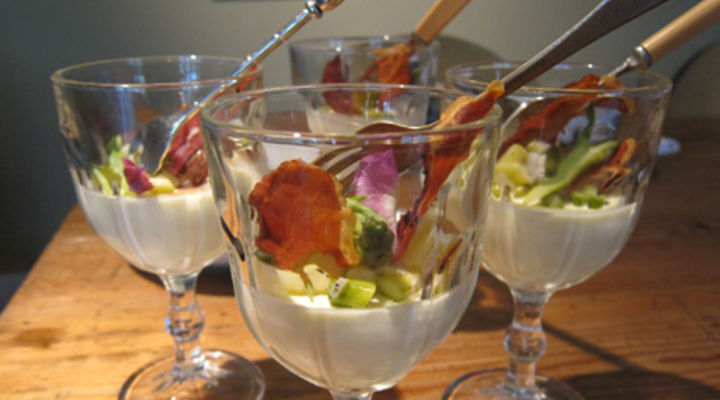 RECIPE OVERVIEW
Crispy Parma ham with fresh in season asparagus. A great combination and sure to impress at the dinner table.
350

g

SuperValu Asparagus

200

ml

SuperValu Buttermilk

0

-

SuperValu Lemon

(zest and juice of 1/2 the lemon)

1

tsp

SuperValu Olive Oil

4

slices

SuperValu Parma Ham

1

-

SuperValu Shallots

(finely sliced)

0

-

SuperValu Whole Black Peppercorns
Method
Slice 300g of asparagus into 1cm slices. Retain the tips of the asparagus for later use.
In a bowl of cold water, soak the gelatine for 6-8 minutes until softened.
Pour the cream into a medium saucepan and add the whole garlic clove and sliced asparagus. Bring to a simmer and let cook on a low heat for 10 minutes.
Sieve the asparagus pieces from the cream, and set the asparagus aside (they can be used for preparing a soup for example).
Stir the gelatine into the hot cream then add the buttermilk and season with salt, pepper and lemon zest. Pour the liquid into glasses and leave it to cool for at least 3 hours.
Meanwhile, prepare the shards of Parma ham by preheating the oven to 180˚C/350˚F/Gas Mark 4. Place the Parma ham on some parchment paper on a baking tray and cover with another layer of parchment, then place another baking tray on top to keep the ham flat.
Transfer to the oven and cook for 8 minutes.  Check to ensure it's nice and crispy before removing from the oven.
Then, in a pan of boiling water, blanch the remaining asparagus for 4-5 minutes until done. Remove from the boiling water and place into a bowl of iced waterfor 2 minutes to stop the cooking process.
Drain the asparagus from the iced water through a colander, then dice into small cubes and add the shallot, and season with lemon juice, olive oil, salt and pepper.
Decorate four pannacotta glasses with Parma ham shards, and add the asparagus salad.
Be the first to add a review.