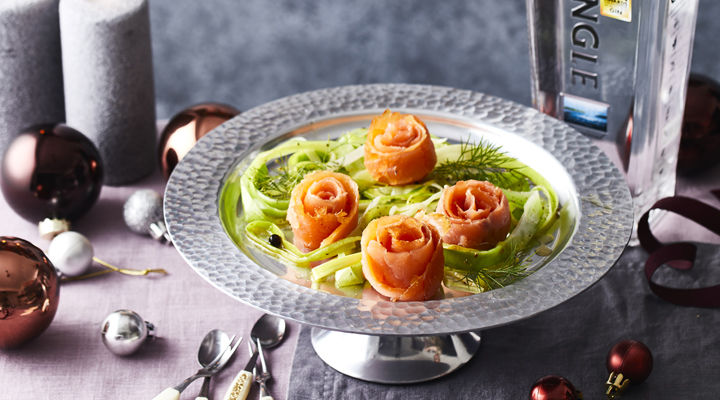 2

packets

Signature Taste Applewood or Dingle gin infused smoked salmon
Method
Prepare the smoked salmon by folding the slices into 6 'rose' shapes. Secure them with a toothpick. Set aside until needed.
In a small saucepan, warm the lemon juice, gin, thyme and juniper berries. Bring to a simmer for 1 minute or so.
Remove the saucepan from the heat and immediately whisk in the 100g of diced butter, diced butter without interruption until smooth.
In a sauté pan, melt 20g butter over a medium/low heat, then add the chopped leek and sauté gently for approximately 45 – 60 seconds until just translucent.
Pour in the white wine, season well, then add the smoked salmon roses to the sauté pan. Immediately cover and cook for 2 minutes until the salmon is warm.
To serve, place the leeks in the centre of the plate, then place the salmon on top. Remove
the toothpick from the salmon and drizzle on the gin butter sauce. Serve immediately.
Be the first to add a review.