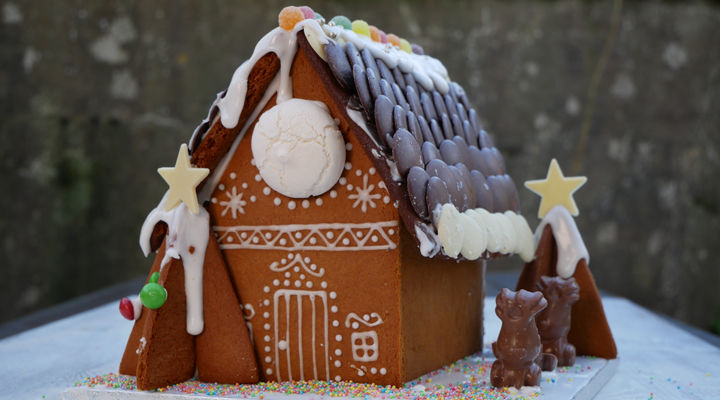 210

g

Dark Muscovado Sugar
To Decorate
500

g

Icing Sugar

, plus extra to dust
Method
Preheat the oven to 180 degrees Celsius or gas mark 6. Prepare a  template for building your house using parchment paper.
Melt the butter, sugar and golden syrup in a saucepan. In a bowl mix the flour, bread soda and ground ginger, then stir in the melted butter mixture to make a dough.  You can add your water here to help bind your mix.
On a piece of parchment paper, roll about one half of the dough 1cm thick. Cut the side panels, front panels and side walls using the templates.
Bake the sections for 12 minutes or 8 minutes until firm and just a little darker at the edges. Remove from the oven and set aside to cool.  While still hot, place the template back on the pieces and trim around again to give clean, sharp edges. Leave to cool completely.
Once cooled, prepare the icing.
Place the egg whites in a large bowl, sieve in the icing sugar and stir to make a thick, smooth icing paste. Spoon into a piping bag with a 5mm round nozzle. Pipelines of icing along the wall edges, to join the walls together. Use a small bowl to support the walls from inside the house.  Leave to set and harden for two hours or overnight.
When dry remove the supports and using more royal icing attach the roof panels.
Hold in place for five minutes until the icing start to dry. Dry completely, preferably overnight.
To decorate, using the royal icing and your favourite sweet, decorate using your imagination.
Dust the roof with icing sugar for a snowy effect.
Your gingerbread house will be edible for about a week.
Be the first to add a review.