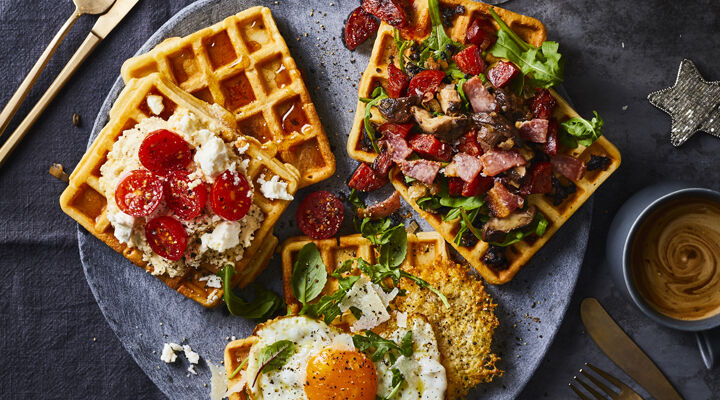 RECIPE OVERVIEW
This delicous recipe for savoury waffles by Kevin Dundon is sure to impress any crowd. Choose from one of Kevin's suggested toppings and you are in for winner.
Method
For the waffles:
In a mixing bowl, whisk together the flour, sugar and baking powder, then create a well and whisk in the buttermilk, egg and clarified butter until smooth.
Preheat the waffle maker, then use a pastry brush to coat the inside of the waffle grid with oil. Pour enough batter into the waffle maker to just cover the waffle grid. Close the lid and cook the waffle for 3-5 minutes, until golden brown.
To prevent the waffles from getting soggy, lift onto a baking rack to help release any steam.
Serve immediately or warm in an oven at 150˚C for 2-3 minutes.
For the tomato & feta topping:
Preheat the oven to 220˚C.
Place the feta in a ceramic dish and add the cream and maple syrup.
Season with salt and pepper. Place in the oven for 15 minutes.
Remove from the oven and place in a blender and blend until smooth and soft. Spread the mixture over the waffle and scatter the tomatoes.
For the parmesan fried egg topping:
Over medium heat, heat a non-stick large sauté pan until warm.
Create four discs of grated parmesan about 4cm diameter each. Add a good sprinkling of pepper and cook for 2-3 minutes until the fat starts to separate from the cheese, bubble and caramelise.
Remove from the heat and leave to cool for about 30 seconds.
Using a spatula, remove the melted cheese disc from the pan onto a side dish. Leave the cheese fat on the pan and place it back on the heat, add some oil if needed and crack the eggs.
Cook the fried eggs for 3-4 minutes and grate extra parmesan over the frying eggs if desired.
Once cooked, place the parmesan crisp on the waffle and add one fried egg. Sprinkle with the Italian microgreen mix and extra parmesan shavings.
For the meaty topping:
In a large sauté pan, over medium heat, without oil, sear the chorizo, black pudding, rasher pieces, shallots and mushroom and sauté for 3-4 minutes, shaking the pan until all coloured and warmed through.
Remove from the heat, place some rocket on the waffle, then the meaty mixture.
Be the first to add a review.