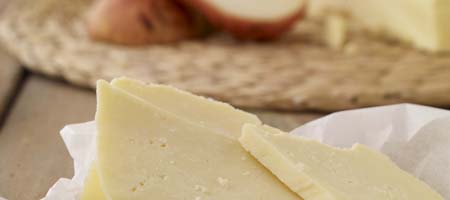 Wicklow Farmhouse Cheese is a small family business in the South East of Co. Wicklow.
The Hempenstall family have been milking cows on a small dairy farm at Curranstown, Arklow for the past 50 years. John established Wicklow Farmhouse Cheese in 2005 to supplement farm income. He milks approximately 60 cows and has developed a distinctive range of cheeses using only his own pasteurised milk from his herd of Friesian cows.
The cheeses are handmade, in a purpose built dairy on the farm, by the entire Hempenstall family, over seen by John. They have won gold, silver and bronze awards at, among others, the British Cheese Awards and have been recommended by John and Sally McKenna. Wicklow Blue has specifically enjoyed critical acclaim since arriving on the market. He has a range of products now, including Wicklow Blue, Wicklow Baun, St. Kevin, Blue Crumble, a natural buttermilk and a selection of new cheddar cheeses.
Wicklow Baun 1.2kg
A rich double cream brie. A deliciously creamy seductive brie cheese, with a distinctive flavour all of its own.
Wicklow Blue 1.2kg
A deliciously creamy seductive brie cheese, with distinct blue veins causing an exciting flavour.